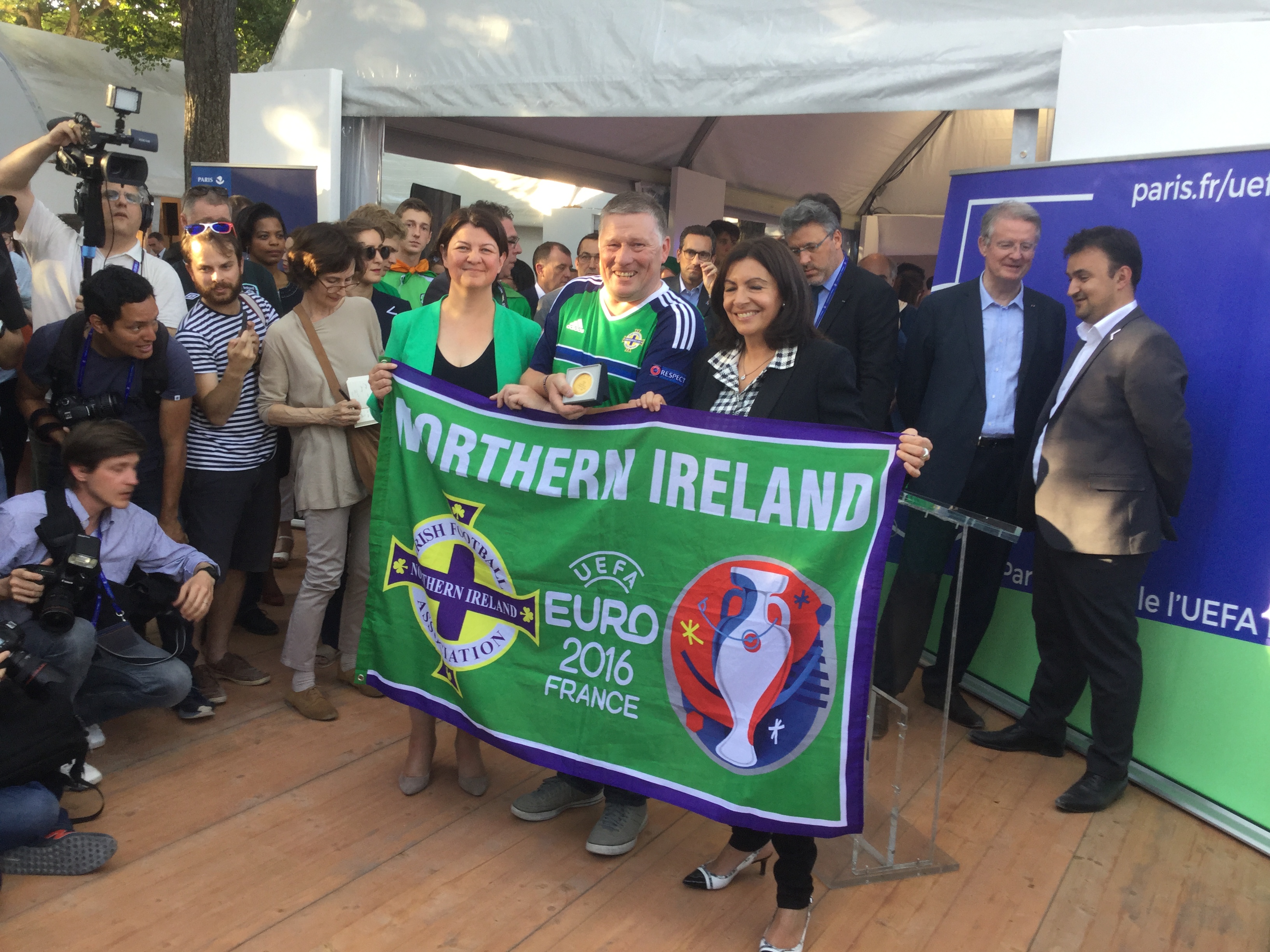 The Medal of the City of Paris was presented to Northern Ireland fans this evening.
The Mayor of Paris, Madame Anne Hidalgo, awarded the medal to the fans as a mark of gratitude for their exemplary behaviour in the city during Euro 2016.
Jimmy Spratt of the Amalgamation of Official Northern Ireland Supporters' Clubs received the medal on behalf of all fans who followed the team in France last month.
The Mayor handed over the award at the fanzone beside the Eiffel Tower in the French capital prior to the France v Germany Euro 2016 semi-final, which France won 2-0. Mr Spratt was joined at the ceremony by Gill Fraser, Deputy Ambassador at the British Embassy in Paris, as well as Irish FA Chief Executive Patrick Nelson and Irish FA President David Martin.
Madame Hidalgo said Northern Ireland supporters had displayed "exemplary behaviour" during the football tournament in France – both in Paris and in other French cities.
In a letter to Northern Ireland First Minister Arlene Foster, the Mayor said all Parisians, French people and foreign visitors who came to attend matches or simply to visit Paris were charmed and impressed by their kindness, their chants and their good humour.
She explained: "While the practice of international football is, unfortunately, sometimes marred by rudeness, excesses or even violence, Northern Ireland supporters showed us all, to our great benefit, what supporting a country and a sport truly means.
"For all these reasons, on behalf of all Parisians and as a mark of respect and gratitude I have decided to award the Medal of the City of Paris to those citizens of Northern Ireland who came to support their team in our capital."
 Jimmy Spratt celebrates receiving the Medal of the City of Paris on behalf of Northern Ireland fans along with Mayor of Paris Madame Anne Hidalgo (right) and Gill Fraser, Deputy Ambassador at the British Embassy in Paris.