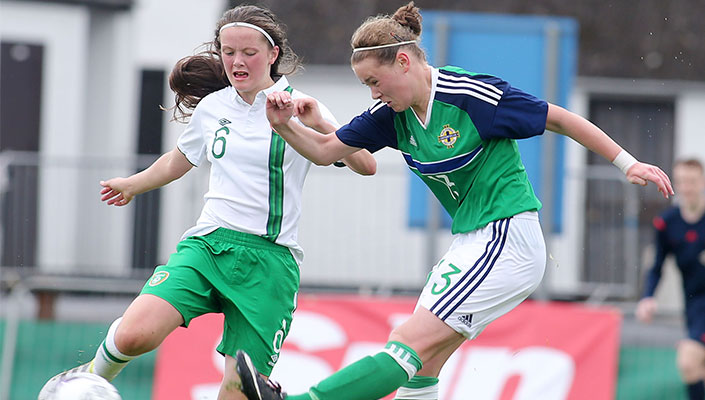 Northern Ireland women under 19s lost 4-2 on penalties at the Ballymena Showgrounds against the Republic of Ireland in the annual Challenge Cup match as part of the SuperCupNI.
The game finished 2-2 in normal time however the Republic of Ireland scored four in a row from the spot whilst Northern Ireland missed two handing the visitors the Challenge Cup.
It was a good start to the afternoon for Northern Ireland as they took the lead after 15 minutes. Orr picked up a cross field pass and hit her effort into the top corner out of the reach of the Republic of Ireland goalkeeper Erica Turner to put the home side 1-0 up.
The visitors responded well looking for their equaliser and came close on 28 minutes as a last ditch block inside the area from Northern Ireland defender Teresa Burns kept the score at 1-0 after 45 minutes.
It was Northern Ireland who had the first chance after the restart as Bassett found herself one on one with keeper Turner but the striker could only poke her effort just wide of the post.
However minutes later the Republic of Ireland would find space and break down the Northern Ireland defence for their equaliser. Number 8 Ruddy was left in space just 10 yards out and had time to finish low into the bottom right hand corner past keeper Lauren Currie.
And the turnaround was complete soon after as a cross from the left found the unfortunate foot of Burns who couldn't put the ball out of play but only into her own goal to give the visitors a 2-1 lead.
But Northern Ireland kept going and the energetic Bassett was rewarded as she was fouled whilst running into the box and was able to convert from the spot.
It finished 2-2, but with the game being for the Challenge Cup, we went to penalties to decide a winner.
Sadly, Northern Ireland missed two of their spot kicks to give the Republic of Ireland a 4-2 win and the Challenge Cup.
Northern Ireland: Currie, McDaniel, Moore, Robson, Burns, Coppel, Beattie, Orr, Connolly, Bassett, Mackin. Subs: Hautton, McMaster, Cochrane, Callahan, Magee (46), Ruddy, White.
Republic of Ireland: Turner, Lambe, Lynagh, Doyle, Toland, Carolan, Ruddy, McManus, Mackey, Payne, Baynes. Subs: Singleton, Burdis, Brady, McEvoy, Kelly, Boyle-Carr, McDevitt, Mannix, Masterson.