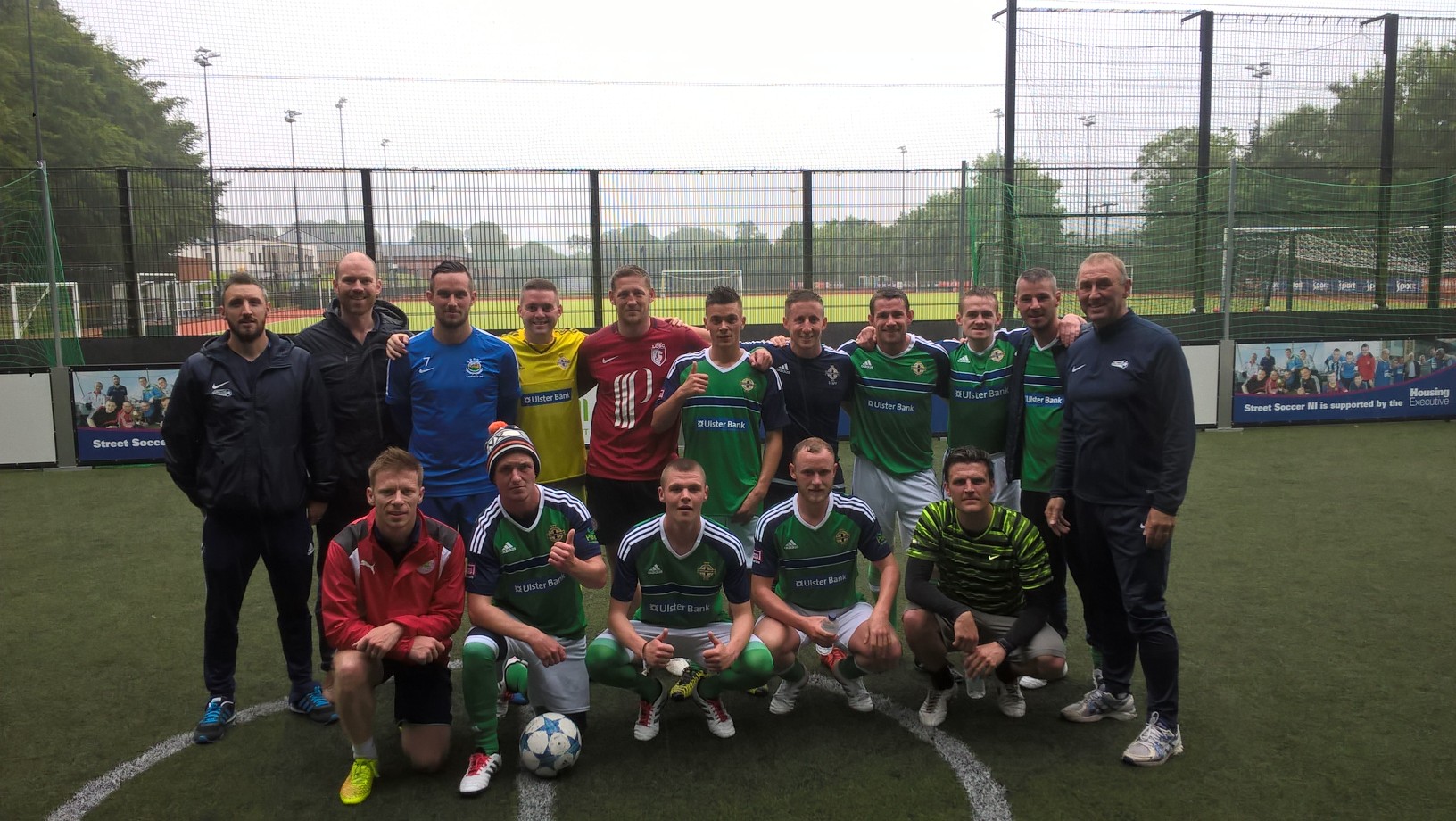 The Northern Ireland Homeless team are preparing to take on the world.
Team NI play Holland this Sunday afternoon in their opening fixture in this year's Homeless World Cup, which is being staged in Glasgow.
Team NI head coach Terry Moore, who completed his Pro Licence coaching awards with the Irish FA along with Wales manager Chris Coleman, said: "Our boys have been inspired by how well the Northern Ireland senior men's team and the Welsh team did at the Euros. It just shows smaller nations can shock the world when we believe in ourselves."
"I am a big fan of Michael O'Neill and Chris Coleman. While working on my Pro Licence with Chris I picked up how important it is to instil confidence and belief in players. Team NI are a talented bunch of players and we believe Team NI will do well in this year's tournament."
Team NI's group at the World Cup features Nigeria, Romania, Switzerland and Italy as well as the Netherlands. They will play both Nigeria and Switzerland next Monday and Romania and Italy the following day as they bid to reach the second stage of the competition.
Team NI manager Justin McMinn said: "We are currently ranked 24th in the world by the Homeless World Cup. Our aim is to finish in the top 15 this year. This is ambitious but we believe in the team."
The team prepared for their adventure in Glasgow by playing an IFA Irish League All Stars Team in Belfast earlier this week.
The All Stars included Andrew Waterworth (Linfield), Stevie Garrett (Cliftonville), Michael Carvill (Crusaders), Kris Lindsay (Glenavon) and Diarmuid O'Carroll, who recently retired after winning the league with Crusaders.
Diarmuid said: "They gave us a really good game and the tempo was high. We wish Team NI the very best for the Homeless World Cup."
Northern Ireland senior men's team manager Michael O'Neill also wished Team NI well. He said: "The main thing is that the team do their best and have fun.
"It is a wonderful experience to wear the famous green jersey of Northern Ireland and I am sure they will be great ambassadors."
Irish FA Director of Football Development Michael Boyd explained the Homeless World Cup is a unique, pioneering social movement which uses football to inspire homeless people to change their own lives.
He added: "The Irish FA is very proud to work alongside Street Soccer NI, the NI Housing Executive and East Belfast Mission, among others, to support Team NI.
"We are committed to football for all and believe football can be a great hook for transforming lives for the better. "Team NI is a powerful example of how football can reach some of the most marginalised and vulnerable people in society, and give them the tools and motivation to get back into work or education."
If you would like to follow Team NI search for Street Soccer NI on Facebook and twitter and use the hashtag #TeamNI to show your support.
Team NI, seen here with their coaches and the Irish League All Stars, are hoping to make their mark at this year's Homeless World Cup.