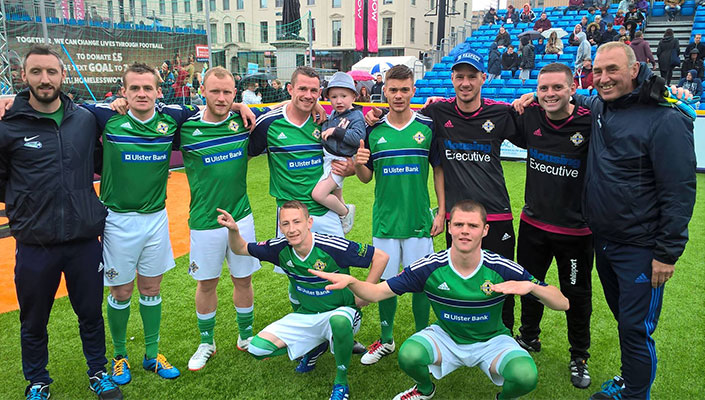 The Northern Ireland Homeless team "overachieved" at this year's Homeless World Cup.
Going into the tournament they were ranked 24th in the world but set themselves a target of finishing 15th overall.
However, after some cracking displays along the way, they eventually finished 13th overall following the trophy stage.
Team NI head coach Terry Moore was full of praise for the players. He said: "We have been going to the Homeless World Cup for the past four years and this was our best performance so far at the tournament.
"It was a very successful trip and it was a great experience for the guys, which is the most important thing. Hopefully it will help them with their personal goals.
"We overachieved by finishing 13th overall but in hindsight we probably could have done better. Nevertheless I'm delighted with our overall standing."
Team NI played 13 games at the four-a-side tournament, which was staged in Glasgow's George Square throughout last week. And they notched up an impressive nine victories along the way, scoring more than 80 goals, with striker Darren Spiers notching a remarkable 33 goals alone.
In stage one of the competition they defeated Holland (10-3), Nigeria (1-0 bye), Switzerland (10-2) and Italy (11-2) while they drew 5-5 with Romania but lost out 2-1 on penalties.
In the second stage they narrowly lost 5-4 to Chile, who eventually finished fourth overall, before defeating United (a team made up of refugees) 7-5 and India 6-1. They then drew with the Republic of Ireland 4-4 but lost out 1-0 on pens.
They were still in the hunt at that stage for a place in the last eight of the main competition (for the top eight teams in the group rankings) but their hopes were ended following a 5-3 defeat at the hands of Hungary, who went on to finish sixth overall.
Instead Team NI secured a place in the Men's Plate competition (teams ranked 9th to 16th at second stage) where they suffered their heaviest defeat in the tournament in their first game – an 8-3 reverse against Namibia. However, they bounced back to defeat Denmark 11-5 and South Africa 8-4 to finish in fifth place in the Plate and 13th overall.
Northern Ireland's Homeless World Cup team was comprised of people from disadvantaged groups such as homeless people, people suffering from substance abuse, refugees, asylum seekers and those who are long-term unemployed. The squad was selected via trials staged by the Street Soccer NI organisation.
Mexico beat Brazil 6-1 in the final to win this year's Homeless World Cup, while Mexico also won the Women's World Cup in Glasgow. In total 64 teams, representing 52 countries, came together in Scotland to celebrate and highlight the year-round life changing work of the Homeless World Cup National Partner Network.