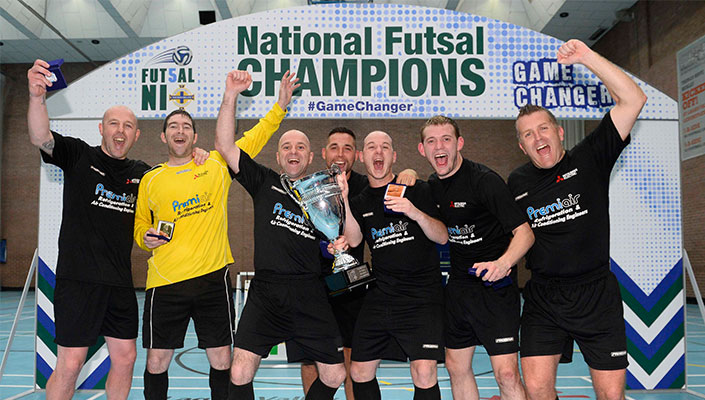 Foyle Futsal Club have been crowned National Futsal League Champions for 2016 after victory by one goal over Sparta Belfast in a pulsating game at Lagan Valley LeisurePlex.
The final game was the culmination of a National Futsal League Regional competition that took place across Northern Ireland this summer with the Regional League winners meeting in a National Final Four competition. 
Sparta Belfast booked their place in the final after a 13 vs 8 semi-final victory over FC Tuga of Portadown. Foyle Futsal Club impressed in their 7 vs 1 semi-final victory over Amigos LT of Armagh.
The final was a fantastic advert for the high tempo and end to end nature of Futsal. Sparta Belfast established an early 3 goal lead but Foyle Futsal Club regrouped to make the score 4 vs 4 at half time. 
The second half was much more open with both teams giving everything to establish a lead and take control of the game.  The half was not without incident which included high quality one touch play, tremendous goalkeeping, penalties and a sending off.
With less than 2 minutes remaining on the clock, and a potential penalty shootout looming, Foyle Futsal Club took the lead to make the game 13 vs 12.  A strong defensive display enabled them to deny Sparta Belfast a clear cut opportunity and when the final buzzer sounded their celebrations began.  The teams had been part of a thoroughly entertaining final which was a great representation of Futsal in Northern Ireland.
Speaking about the competition, Irish FA Schools and Futsal Manager Jonathan Michael said, "Today marks the conclusion of the first ever male national domestic Futsal competition in Northern Ireland.  I have been delighted to see so many clubs participate in the competition across the regional centres and I am confident that the numbers will continue to increase as more people get involved in this fantastic game. 
"The Irish FA Futsal Strategy 'Game Changer' has set ambitious targets of 48 male clubs participating in Senior Domestic competition by 2020 and I would encourage interested clubs to contact futsal@irishfa.com for more details."
Jonathan added, "I congratulate both clubs on an extremely exciting final today.  Sparta Belfast have just recently begun participating in Futsal programmes and I am confident that they will continue to grow from strength to strength. 
"It is fitting that Foyle Futsal Club are the inaugural National Futsal League Champions as they are part of the Foyle Futsal Centre that was established in 2015 that offers a purpose built Futsal facility with the aim to grow the game in the Derry / Londonderry area."
Foyle Futsal Club will now participate in the Futsal International Cup that will take place at Lagan Valley LeisurePlex on Saturday 30th and Sunday 31st July. 
The tournament will welcome Futsal clubs from England, Wales and the Republic of Ireland and will be delivered in partnership with Futsal Focus.  For more details about this event and other Futsal programmes, log on to www.irishfa.com/futsal