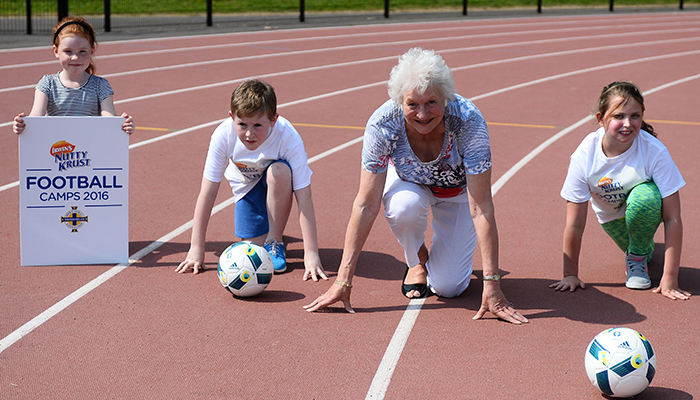 The Irish Football Association and Athletics NI have joined forces to offer a summer camp with a difference.
The camp is part of the Irish FA's extensive Nutty Krust summer football camps programme, which is running at numerous venues across Northern Ireland, but it is offering a mix of football and athletics rather than a sole focus on football.
Malcolm Roberts, the association's Regional Grassroots Development Officer for Belfast Central, explained: "We are always trying to enhance our camps and dual sport camps are a way for us to reach out to user groups who would not normally consider playing football.
"Football always attracts a large pool of boys, while athletics attracts large numbers of girls. Athletics NI would like to get more boys participating in athletics, while we are always trying to get girls involved in football, so this camp is a way of getting more kids interested in the respective sports."
At the camp, which is running at the Mary Peters Track in south Belfast from Monday 25th July to Friday 29th July, children aged 8-13 will be able to experience quality coaching in track and field disciplines as well as football. 
The coaching sessions will begin at 10am and finish at 1.30pm each day. Malcolm added: "Through this fun-filled pilot camp we are aiming to develop a multi-sport approach to skills development as well as provide another opportunity for children to get active in the summer holidays.
"If it is successful we would hope to build on it by rolling out similar activities right across Northern Ireland in conjunction with StarTrack, which is Athletics NI's flagship grassroots programme."
For full details and dates of all the Irish FA Nutty Krust summer football camps, including the camp at the Mary Peters Track, visit www.irishfa.com/footballcamps.