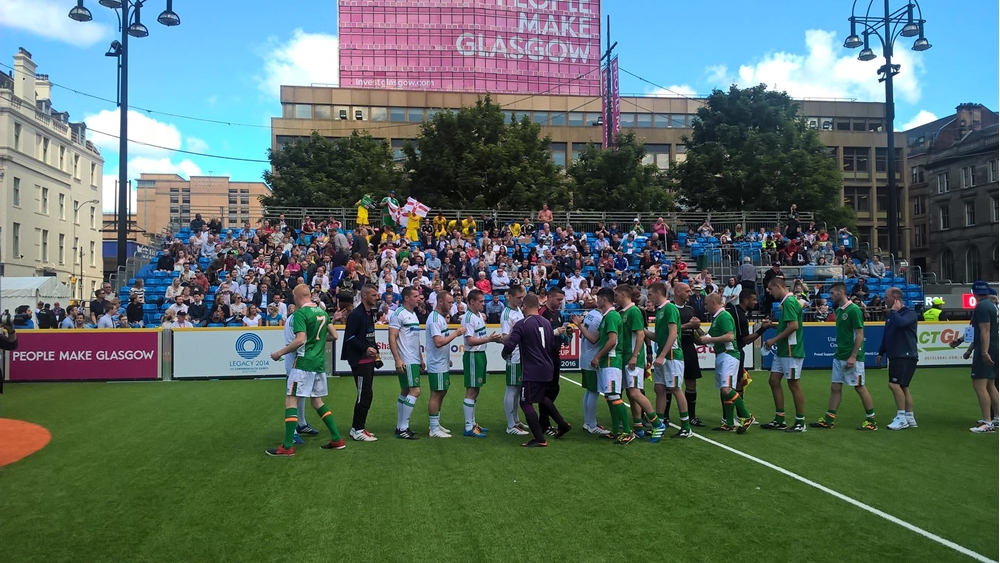 The Northern Ireland Homeless team's World Cup dream is alive and kicking – but it is hanging by a thread.
They play Hungary later this afternoon knowing a victory could still put them through to the final stages of the 2016 Homeless World Cup, which is being staged in Glasgow.
However, they will only make it if they defeat the Magyars and other results go their way.
Team NI, currently ranked 24th in the world, are already guaranteed to finish in the top 16 after some impressive performances in the group stages.
But the game against Hungary - and other results - will determine if they will be taking part in the main World Cup (top eight teams in the group rankings) or in the Men's Plate (teams ranked ninth to 16th) this weekend.
After two wins and a defeat in the second group stage, which began yesterday, Northern Ireland needed to defeat the Republic of Ireland earlier today to increase their chances of progressing to the main knockout stage.
Unfortunately they came up short against the Republic. The game ended 4-4 but they lost 1-0 in a sudden death penalty shootout, which meant they only secured a point from the game.
It now means they will have to rely on other teams defeating both Chile and the Republic later this afternoon - coupled with a victory against Hungary - if they are to progress to the main knockout stage.
On a more positive note, Team NI striker Darren Spiers scored twice against the Republic to bring his tally at the four-a-side tournament to 23, a remarkable total. Johnny Sterrett scored the other two.
The Northern Ireland team's aim before the World Cup was to reach the last 16 – and that's now a certainty no matter what happens this afternoon.
Team NI began the tournament with a bang, defeating Holland 10-3 on Sunday. In their next game the following day they were given a bye (1-0 win) when Nigeria failed to field a side, while game three saw them hammer Switzerland 10-2.
Their only defeat in stage one came on Tuesday when they drew 5-5 with Romania but lost out 2-1 in the penalty shoot-out, which meant they were awarded one point rather than a potential two.
And they completed their stage one group games - and cemented their place in the second stage - with an impressive 11-2 victory over Italy.
Team NI's first encounter in stage two saw them lose narrowly to Chile (5-4) yesterday but they bounced back later in the day with a 7-5 success against United, a team made up of refugees from around the world.
And yesterday evening they turned on the style during a 6-1 defeat of India.
Northern Ireland's Homeless World Cup team is comprised of people from disadvantaged groups such as homeless people, people suffering from substance abuse, refugees, asylum seekers and those who are long-term unemployed. The squad is selected via trials staged by the Street Soccer NI organisation.
If you would like to follow Team NI search for Street Soccer NI on Facebook and twitter and use the hashtag #TeamNI to show your support. You can also follow the team's progress at www.homelessworldcup.org where most of the games are being streamed live.