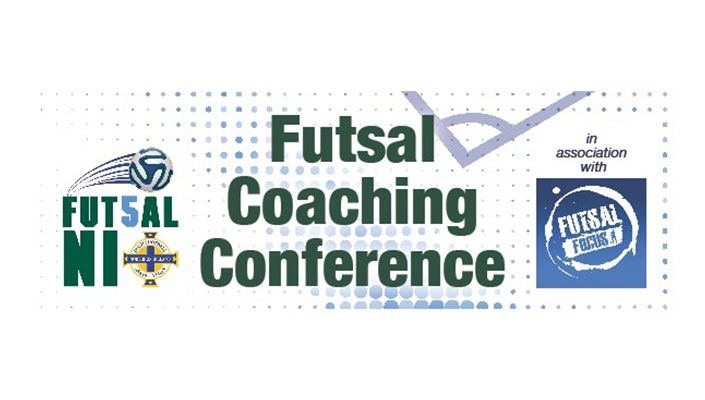 The Irish FA will be working partnership with Futsal Focus this weekend to deliver a free Futsal Coaching Conference which will provide grassroots coaches with the opportunity to further enhance their knowledge of the game.
The Futsal Coaching Conference will take place on Sunday 31st July at Lagan Valley LeisurePlex from 13:00 to 17:30.  The conference will welcome expertise from across Europe to deliver practical sessions and take part in a question and answer session.  The line-up is as follows:
1.00pm - 2.00pm: Individual Skills in Game Situations with Roger Augusto
Roger Augusto is one of the most qualified Futsal coaches in the UK.  The Portuguese coach has vast experience gained from all over Europe.  He has coached with Sporting Club de Paris (France), FK Balticflora Futsal (Czech Republic), Melilla FS (Spain), SL Benfica (Portugal) and worked with the likes of Ricardinho.  He is now working hard to help grow Futsal in the UK and help it to realise its potential. 
2.05pm - 3.05pm: Systems of Play and Fundamentals of Tactics with Wendelin Kemper
Wendelin Kemper is the Assistant Manager of the German National side.  Wendelin has enjoyed a long list of achievements as manager, player-manager and player.  He's been West-German champion five times between 2010 and 2015, as well as German University Champion in 2013, 2014 and 2016.  Wendelin has been a DFB-Futsal instructor since 2015 and gained his UEFA B Futsal coach licence last year.
3.25pm - 4.25pm: Principles of Futsal Goalkeeping with Andy Reading
Andy Reading has a hugely impressive CV at both club and international level.  Currently the Reading 1st team Futsal Goalkeeping Coach, Andy also provides advisory Futsal support for Manchester City goalkeepers from the Under 9s to the 1st team. He has also provided technical support for the Sweden and Wales National Teams. 
The conference will conclude with a question and answer session and provide an opportunity for those present to gain further understanding and enhance their coaching knowledge. 
Speaking about the event, the Irish FA Schools and Futsal Manager Jonathan Michael said, "The Irish FA recently launched our first ever Futsal Strategy 'Game Changer' and the events at the end of July are significant elements of the delivery of this strategy and the development of Futsal in Northern Ireland. 
"The event will be delivered in partnership with Futsal Focus.  Futsal Focus was established in 2012 to increase awareness of Futsal by providing quality content that educates readers about the growth of the sport around the world.  Moving forward, Futsal Focus will continue to develop with the intention of increasing Futsal awareness on a larger global scale."
Stephen McGettigan, founder of Futsal Focus commented, "Futsal Focus is delighted to be working with the Irish FA to deliver Northern Ireland's first ever Futsal Coaching Conference. 
"Futsal has exploded across the world, the sport has not only contributed to the development of most of the world's best Football players but it also provides an alternative career for players and coaches within the FIFA competition platform, whose skillset or preference is more inclined toward 5 a-side than football. Don't miss this opportunity to watch the sport which Pele and Cristiano Ronaldo said, if it were not for Futsal, they wouldn't be the players they are today."
To book your place on the Futsal Coaching Conference contact Michael Carvill on michael.carvill@irishfa.com. For global Futsal news, go to www.futsalfocus.net