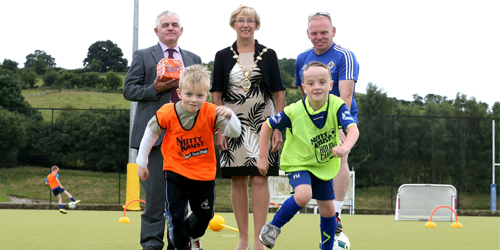 Councillor Alderman Hilary McLintock visited the Irish FA Nutty Krust Football holiday camp at Castlederg High School today.
The Irish FA, in partnership with Irwin's Bakery, is holding camps in 71 locations across Northern Ireland throughout July and August attracting over 3,500 children.
Castlederg High School hosted over 34 children for the week long camp, which forms part of the Irish FA's Grassroots Development Programme.
The camps provide opportunities for children aged 5-13 to develop and improve their football skills in a structured environment with professionally trained and vetted staff.
This summer's schedule includes 12 courses specifically for goalkeepers as well as a disability course. The delighted kids who attend are awarded with a Nutty Krust gift bag and and adidas football.
Irwin's, Northern Ireland's leading bakery, has been sponsoring the Irish FA's Nutty Krust Summer Football camps since 2007.
Colette Wilson, Marketing Manager, said she was delighted to see such a great turnout at the the camps: "As a family-owned bakery, we know how important it is for children to take part in fun activities throughout the summer that support an active lifestyle. We are thrilled so many children could attend this IFA Nutty Krust Summer Camp and look forward to the other camps throughout the province this summer."
Irish FA Regional Grassroots Development Officer, Kevin Doherty, is delighted to have been involved in another successful year of holiday camps: "I am delighted to host another camp in the Castlederg area. Year on year these camps are getting more popular and I would like to thank Castlederg High School for their continued support and use of their facilities. After successfully completing camps in Strabane and St Columb's College, the final one of the year takes place next week at the Foyle Arena, Derry"
For more information about the summer football camps please visit www.irishfa.com/footballcamps.