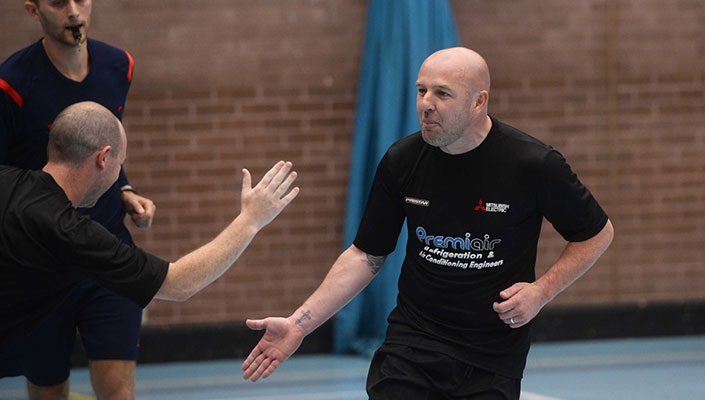 The Irish FA and Futsal Focus are delighted to have worked in partnership to organise a Futsal International Cup which will provide the current Northern Ireland National Futsal Champions, Foyle Futsal Club, with the opportunity to measure their ability against established Futsal Clubs in a round robin competition this weekend. 
The Futsal International Cup will take place on Saturday 30th and Sunday 31st July and welcome teams from Northern Ireland, Republic of Ireland, England and Wales.  The matches will take place at Lagan Valley LeisurePlex and all are welcome to come and watch the games for free to experience the high tempo and entertainment value of Futsal.
More details about the clubs involved is detailed below:
University of Nottingham Futsal (England)
The club was established to cater for all levels of Futsal players at the University as well as help facilitate growth of Futsal in the city of Nottingham and the local community.  Since their independence on 2013, the club has made great strides forward and the sport of Futsal at the University has exploded in popularity.  The club participates in the British Universities and Colleges Sport competitions and the 1st team compete in the FA National Futsal League.
Wrexham Futsal Club (Wales)
The club was established in 2011 and has achieved great success in the Welsh National Championships being crowned champions in 2013 and 2014.  The club has also represented Wales in the UEFA Futsal Cup.  In 2015 Wrexham Futsal Club won the FAW Elite League for the first time in their history.  The 1st team complete in the Welsh National League North.
Saints and Scholars Futsal Club (Republic of Ireland)
The club was established in 2014 as a result of the need for a Futsal team in South Dublin.  The objective of the club is to create a strong Futsal teams and to further promote the game of Futsal in South Dublin and all over Ireland.  The club participate in FAI Futsal competitions and their coaches are also associated with the Republic of Ireland Deaf National Futsal squad.
Foyle Futsal Club (Northern Ireland)
The club was established in 2015 when a group of friends established the Foyle Futsal Centre.  This premier purpose built venue was instrumental in bringing the game of Futsal to the North West.  The club were recently crowned inaugural Northern Ireland National Futsal Champions and are confident they will grow from strength to strength in the future.
The Irish FA are delighted to announce that the final games of this exciting tournament will be streamed live via of Official Irish FA Facebook page.  To log on go to https://www.facebook.com/OfficialIrishFA
For more information about Futsal programmes within the Irish FA log on to www.irishfa.com/futsal.  For global Futsal news, go to www.futsalfocus.net