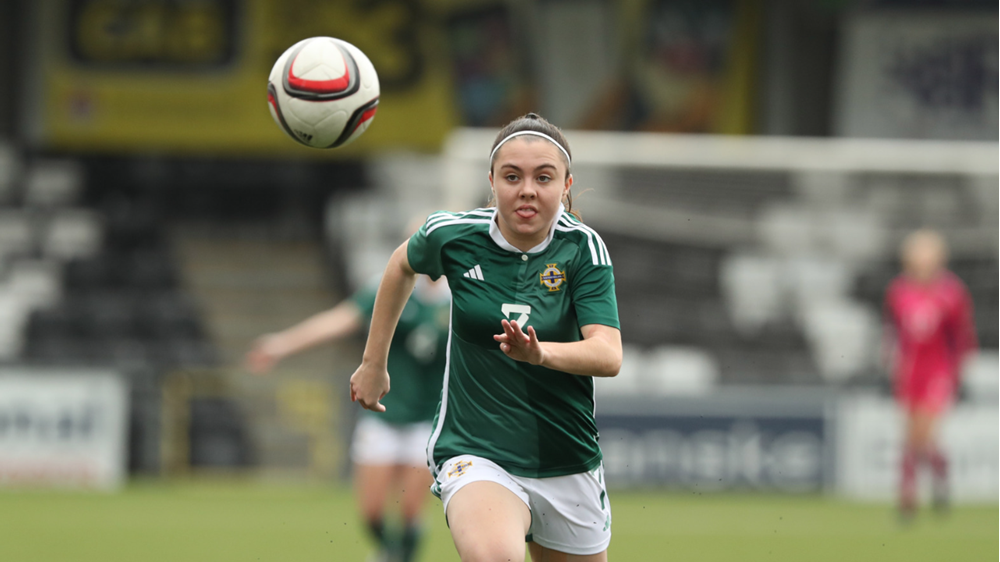 Northern Ireland's Women's Under-17s were promoted to League A for the WU17 Euro competition in 2024 after defeating Turkiye (Turkey) in a winner-takes-all game.
Competition
WU17 Euro 2023 Qualifiers - League B Group 5
Scoreline
Turkey WU17s 0-2 Northern Ireland WU17s
Scorers
Northern Ireland: Mia Moore (62'), Rachel McIntyre (pictured) (82')
Venue
Arslan Zeki Demirci Spor Kompleksi, Manavgat, Antalya Province
Date
Friday 24 March 2023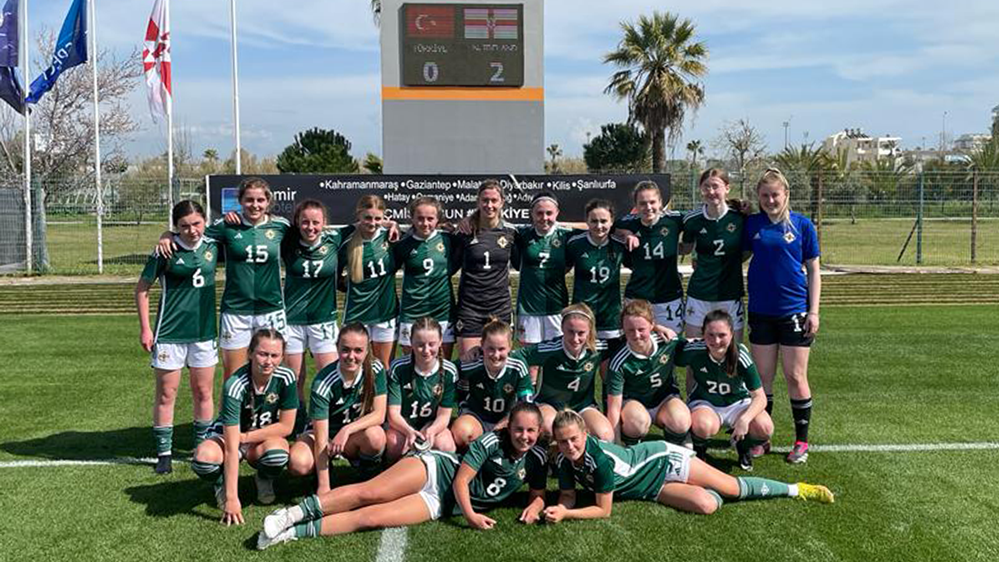 Team News
Northern Ireland senior international player Julie Nelson was in charge of the WU17s for today's game.
The interim boss had a fairly clean bill of health within her squad going in to the match.
The WU17s had been expecting to face both the Turks and Armenia in League B Group 5 (stage two of WU17 Euro 2023 qualifying) this month, however Armenia withdrew from the competition, meaning today's game was the only one in the group.
How it happened
Northern Ireland settled quickly in warm conditions. The first clearcut chance, on 13 minutes, fell to Sophie Gargan, whose effort was blocked by Turkey keeperDefne Sarioglu. And two minutes later the keeper saved from Gargan once again.
Striker Kascie Weir missed the target as Northern Ireland continued to press the hosts, whose first chance came from a direct free-kick struck by Melisa Kurt which sailed wide.
In added time at the end of the first half a Rachel McIntyre strike was off target before Northern Ireland captain Aimee Kerr was upended by the Turkey keeper and the ref quickly pointed to the spot.
Kerr dusted herself down to take the penalty, however she missed it.
Half-time: Turkey WU17s 0-0 Northern Ireland WU17s
Northern Ireland had a scare just after the break when Nihal Sarac smashed a free-kick against the woodwork, while keeper Ellie Scott had to block a Kurt effort.
The girls in green and white took the lead on 62 minutes. Gargan delivered a free-kick into the area which was tucked home by Mia Moore.
Yaren Aydogdu wasted an opportunity for the Turks before Sarioglu saved a Kerr effort.
In the 82nd minute substitute Rhianna Breen forced the Turkish keeper into a decent save.
The resulting corner was taken by McIntyre and she scored directly from it. Sarioglu caught her cross but it had already gone over the line.
Northern Ireland had chances to extend their lead – Breen shot wide and Weir had a couple of opportunities – but they had to settle for a deserved 2-0 win in the end.
The draw for the WU17 Euro 2024 qualifiers, to be played this autumn and next spring, will be held on 16 June. Northern Ireland will be competing in League A in the autumn thanks to today's victory.
Full-time: Turkey WU17s 0-2 Northern Ireland WU17s
Line-ups
Turkey: Defne Sarioglu, Beril Beceren, Tuana Demirbas, Yaren Aydogdu, Nihal Sarac, Havin Ozsoy, Melisa Kurt, Ecemnur Ozturk, Tuana Turcin, Aleyna Topcu (captain), Tuana Senturk.
Substitutes: Begumsu Akay (GK), Aysha Tural, Canset Yigit, Naz Karaca, Zeynep Bilir, Eda Doganarslan, Defnesu Aldemir, Tuana Sertbas, Gulsah Guvendi.
Northern Ireland: Ellie Scott, Niamh O'Donnell, Abi Sweetlove, Sophie Keenan, Sophie Gargan (Rhianna Breen 76'), Darcie McNeill (Ellen McCartney 85'), Aimee Kerr (captain), Olivia Canavan (Faye Loughran 32'), Kascie Weir, Rachel McIntyre (Maureen Quinn 85'), Mia Moore (Erin Morrison 76').
Substitutes: (unused) Cerys Sharkey (GK), Morgan Hanna, Rebecca Mann, Ciara McAleer.