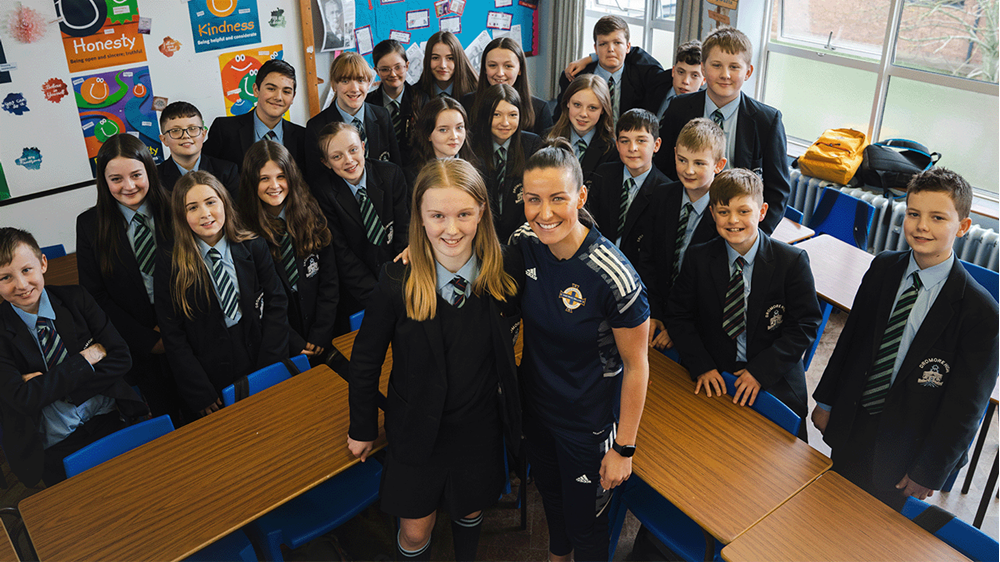 To help mark International Women's Day 2023, we invited fans to write a letter to a 

Northern Ireland senior women's player of their choice. 
International Women's Day (IWD), which is being staged today (8 March), celebrates the social, economic, cultural and political achievements of women around the globe.
We asked to hear from fans following the achievements of the Northern Ireland senior women's team; from qualifying for their first-ever major tournament to obtaining record points in a FIFA Women's World Cup qualification campaign.
Indie McQuillan, aged 12 years old, wrote to Northern Ireland international player, Demi Vance, telling her how she inspires her as a player and how much she looks up to her. 
Demi paid Indie a visit at her school after she wrote the letter, prompted by her English teacher, who knew how big a fan Indie is.
Following the visit and being encouraged by the words from Indie, Demi spoke about how the growth of women's football is giving female football players a platform to inspire young people.
"It's a fantastic feeling; personally, and collectively to be a part of what's happened in women's football in the past few years. When I was a kid, I never had a female footballer that I looked up to and wanted to be. I think it's brilliant that boys and girls of all ages are coming up through the ranks now, and they're looking up to the female athletes in the country. Long may it continue."