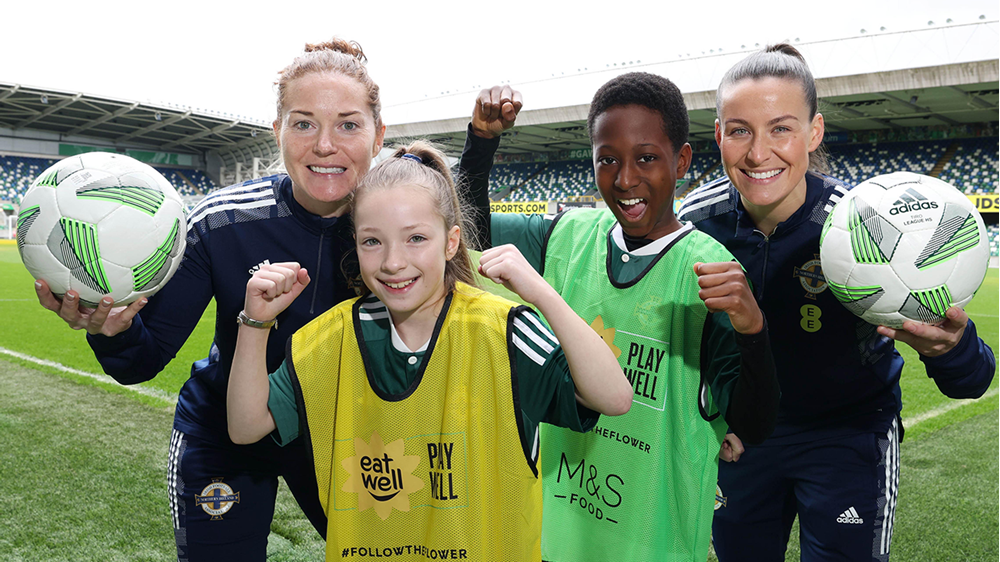 Budding Abbey Primary School footballers were put through their paces today by two Northern Ireland international players in an action-packed training masterclass as part of M&S Food's Eat Well, Play Well partnership with the Irish FA.
Northern Ireland senior women's team players Marissa Callaghan and Demi Vance passed on their footballing knowledge and skills to the Co Down school's football team after they won a coaching session with their Northern Ireland heroes. 
M&S Food has partnered with the Irish FA to use the power of football to help families make healthier choices under the 'Eat Well, Play Well' campaign banner.  
As part of the partnership M&S Food Eat Well and the Irish FA launched a competition for youth football teams to win a training masterclass with the Northern Ireland national football teams.  
Marissa and Demi were joined by expert coaches at the Irish FA to deliver a training masterclass packed with drills and games designed to help the young footballers develop their football skills and have fun, as well as promote the importance of healthy eating and physical activity.  
The young players' fun-filled football experience kicked off with an opportunity to watch the Northern Ireland senior men's international team train for their upcoming UEFA Euro 2024 qualifiers against San Marino and Finland.  
They also received a tour of the National Football Stadium at Windsor Park and relived Northern Ireland's famous football moments with a visit to the Education and Heritage Centre, before getting kitted out in their very own personalised Northern Ireland kit. 
Jonny Manning, Principal of Abbey Primary School, said: "The team has been counting down the days until they got the opportunity to run out on to the training pitch alongside their Northern Ireland football heroes, and the experience has more than lived up to their expectations. 
"From watching the senior's men's team train to touring Windsor Park and learning about the achievements of football in Northern Ireland, and then testing their footballing abilities against some of the Northern Ireland women's team's most decorated internationals, this will live long in the memories of the boys and girls involved. 
"Today has been a once in a lifetime opportunity and we want to thank M&S Food and the Irish FA for making this dream a reality."  
Marissa Callaghan, who captains the senior women's team, said: "I absolutely loved taking today's training masterclass and passing on our footballing knowledge to these talented young players.  
"They were all exceptional and really worked hard in the session. You could feel and see their passion for the game and hopefully one or two will go on to potentially star for Northern Ireland in the future."  
Ryan Lemon, Regional Manager of M&S, commented: "It has been fantastic to experience, first hand, the impact of the M&S Food and Irish FA partnership today. The children have had the opportunity to both observe and be coached by athletes who are at the top of their game. These footballers need to embrace a healthy lifestyle to maintain both their skills and stamina and I have no doubt they will have inspired the children to do the same."  
The M&S Food 'Eat Well, Play Well' campaign links the eating habits of Northern Ireland's footballing heroes to how they play, promoting positive healthy eating messages for kids in a way that's engaging, relatable and drives change.  
Eat Well is a health seal of approval found on thousands of M&S products, making it easier to be healthy. Every product with the Eat Well flower has a health benefit and supports a balanced diet. 
For more information on the M&S Food 'Eat Well, Play Well' campaign visit: www.marksandspencer.com/football. 
Image: Marissa Callaghan and Demi Vance is Abbey Primary School footballers Myanna Gannon and Ayaan Ahmed.