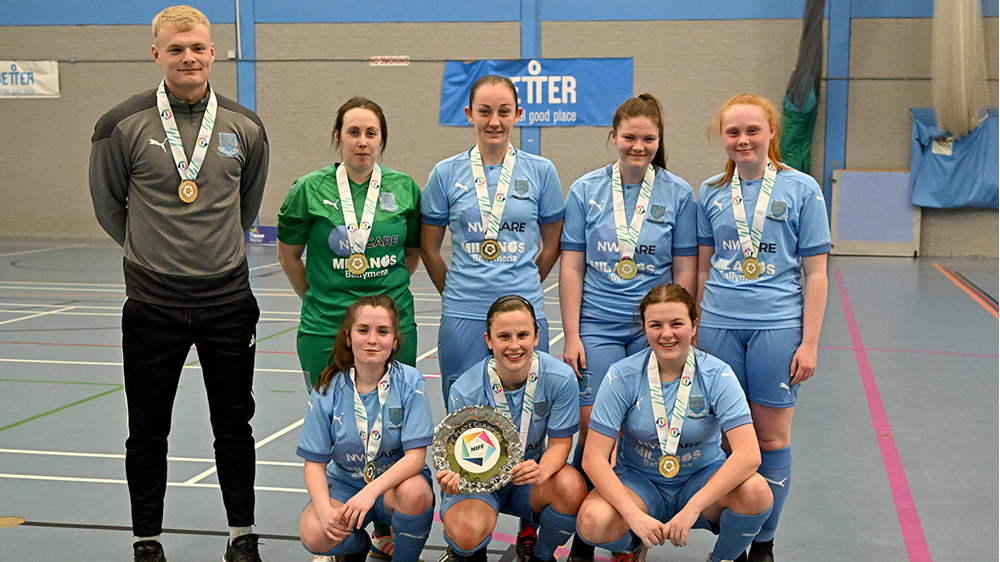 The Northern Ireland Women's Futsal season wrapped up last weekend with the conclusion of the Super Cup, Plate and Championship Playoff Final. 
The first game of the evening saw Ballymena United face Afrimeripean B in the Plate final. In a close contest, Ballymena found themselves 1-0 up at half time thanks to a composed finish. In the second half Afrimeripean came out with a changed strategy which stretched the Ballymena side who held on but two goals in the closing stages of the game saw the Sky Blues secure the victory.  
The second game of the night was the Super Cup final in which Crusaders faced a young Ballyclare side in a fantastic contest. In what was an end-to-end game, Crusaders scored first in the 6th minute with Ballyclare finding an equaliser in the 8th minute. Both teams entered the second half with another goal on the scoreboard, but it was a Ballyclare side that were able to find the winner in the 40th minute to be named Super Cup champions. 
The last game of the evening was between St. Oliver Plunkett and Ballyclare B in the playoff final to secure the last Super League spot. St. Oliver Plunkett found themselves 3-1 up at half time, however, the Ballyclare keeper put in an excellent performance keeping her side in the tie and they were able to reduce the deficit to 1 goal. In the end Plunkett proved to be too strong and a goal in the 40th minute secured their place in next year's Super League. 
Schools & Futsal Manager Gareth Allen said: "This season has been a fantastic advert for women's futsal here in Northern Ireland. The leagues where extremely competitive with some high-quality futsal on show throughout the season. I want to put on record my warmest congratulations to all winners and a massive thank you to NIFF Chairperson, Laura Devine, for all the hard work to make the season such a success."