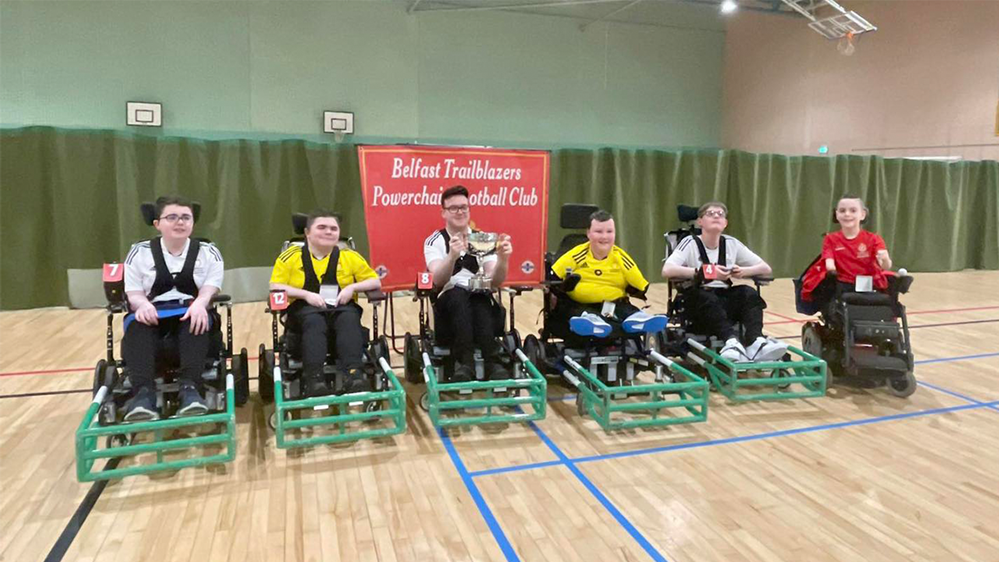 Belfast Trailblazers Powerchair Football Club rounded off their season in dramatic fashion on Saturday as they were crowned Association of Irish Powerchair Football (AIPF) Champions 2022-23.
It was the tough test against Cork-based side Heroes PFC that spurred the team onto the final as they fought hard to keep a 3-0 lead despite a strong attacking side and a penalty decision that goalkeeper, Sean McKinney saved to keep his clean sheet.
As they headed into the final round of games, the Trailblazers were in 2nd place, 3 points behind league leaders Midlands United with the two sides scheduled to meet in the final game.
A win for Midlands United in their first game meant that only a 2-goal winning margin would see Trailblazers claim the title on goal difference. With an action-packed battle with Cumiskey scoring two goals alongside strong saves from McKinney and another goal from centre Scott Hilland. The team took the victory with celebrations amongst the Belfast players and supporters alike.
The good news continued for the Trailblazers as Patrick Cumiskey was deservedly named AIPF Player of the Year and Ethan McCabe claimed his award for AIPF Top Goalscorer.
Coach Michael Hilland commented following the win "Absolutely delighted for the players, their parents and everyone involved. All of our players have showed incredible commitment to training, they have put in the hard work and I am so proud of all their performances today".