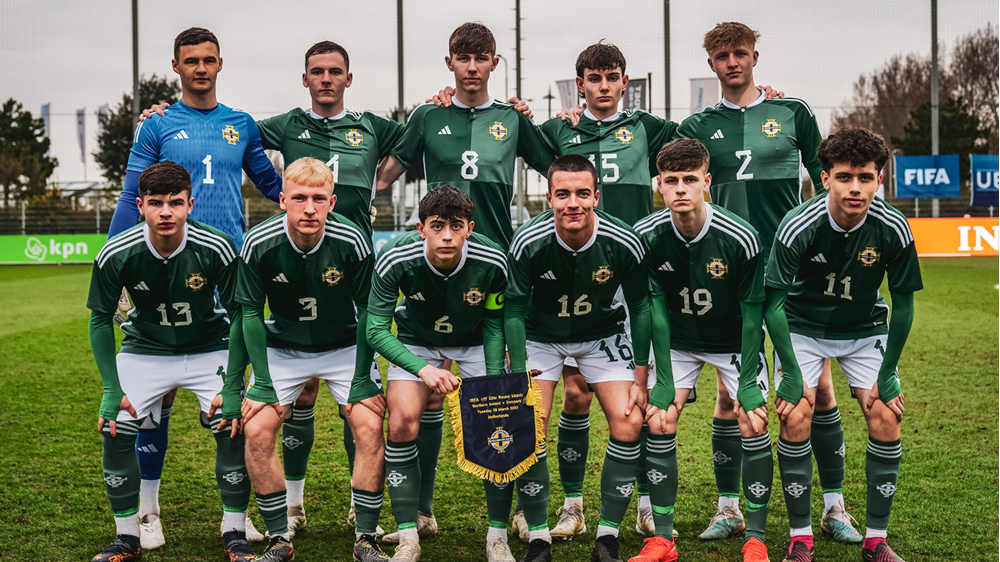 Northern Ireland U17s completed their U17 European Championship Elite Round qualifying group with defeat to Denmark in Noordwijk, the Netherlands.
Competition
U17 Euro 2023 Elite Qualifying Round – Group 3
Scoreline
Northern Ireland U17s 1-4 Denmark U17s
Scorers
Northern Ireland U17s: Kieran Morrison (66')
Denmark U17s: Oscar Schwartau (38'), Tobias Slotsager (50'), Jonathan Asp Jensen (62'), Hjalte Bidstrup (85')
Venue
Gemeentelijk Sportpark S.J.C., Noordwijk
Date
Tuesday 28 March 2023
Team News
This was the third and final of the U17's games in Group 3 of elite round qualifying for this year's UEFA U19 European Championship.
Northern Ireland lost their opening game 2-1 to group hosts the Netherlands, and then 2-0 to England at the weekend. Denmark kicked off their campaign with defeat to England to recovered to draw with the Dutch in their next game.
Joint coaches Kris Lindsay and Sean-Paul Murray made a number of changes from the England game, bringing James Douglas and Rhys Walsh into the starting XI.
Dungannon Swifts midfielder Ryan Donnelly was named captain for the game.
How it happened
The sides traded chances during the opening period of the first half. For Northern Ireland Brendan Hamilton and Rhys Walsh had efforts on goal while, at the other end, Amin Chiakha and Jonathan Asp Jensen offered up chances.
As the game progressed Callum McCay saw an effort blocked by keeper Lucas Martin, with Mason Munn blocking a Jensen shot soon after as play switched.
That pattern continued before, on 38 minutes, Denmark broke the deadlock through Oscar Schwartau after being teed up by Chiakha.
Half-time: Northern Ireland U17s 0-1 Denmark U17s
The Danes started the second half on the front foot, hitting the woodwork on 50 minutes before Tobias Slotsager knocked home the loose ball.
Rhys Walsh tried to pull Northern Ireland back into it only to see his effort saved, but, soon after it was 3-1 with Jensen getting his name on the scoresheet after being teed up by Chiakha.
However Northern Ireland did reduce the deficit midway through the second period after substitute Aodhan Doherty combined with Kieran Morrison for the latter to beat Martin.
Doherty and Tom Atcheson then had efforts on goal before the Denmark bagged their fourth through Hjalte Bidstrup to complete the scoring.
Full-time: Northern Ireland U17s 1-4 Denmark U17s
Line-ups
Northern Ireland U17s: Mason Munn, Harry Lynch (Adhamh Patton 46'), Tom Atcheson, Josh Briggs, Brendan Hamilton, Ryan Donnelly, Kieran Morrison, James Douglas, Callum McCay, Rhys Walsh (Callum Cowan 86'), Jack Hastings (Aodhan Doherty 53', Oscar Kelly 83'). Subs not used: Dara McAuley, Calum Moreland, Casey Smyth, Ciaran O'Hara.
Denmark U17s: Lucas Martin, Lucas Høgsberg, Tobias Slotsager, Mikkel Kristensen, Tristan Birch (Sebastian Mikkelsen 73'), Oscar Schwartau, Nikolaj Juul-Sandberg (Lasse Overgaard Nielsen 90'), Jonathan Asp Jensen, Tobias Jensen (Jonatan Lindekilde 73'), Amin Chiakha, Victor Froholdt (Hjalte Bidstrup 73'). Subs not used: Gustav Aabro, Cornelius Olsson, Anders Noshe, Christian Jørgensen, Julius Berthel Askou.