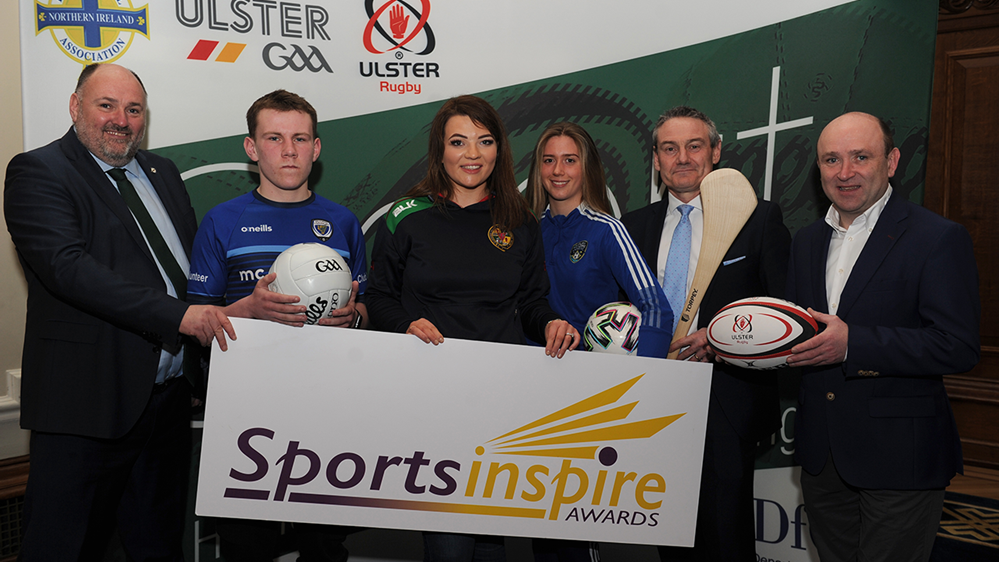 Young sports volunteers from across Northern Ireland took centre stage on Tuesday night at Belfast City Hall to receive their Sports Inspire Awards. The event was organised jointly by the Irish Football Association, Ulster Rugby and Ulster GAA to celebrate young people volunteering in Sport, supported by DfC and the Community Foundation.
Young sports volunteers from all three sports packed into the main hall at Belfast City Hall, all donning their club colours and crest with pride. The BBC's Sports Correspondent Thomas Niblock, overseen proceedings which heard from three young outstanding volunteers making a real difference within their club and community. 
Ellie Scott from Lisburn Rangers highlighted the opportunities for women volunteering and playing sport. As a goalkeeper coach Ellie has helped many young players develop their skills and ability and has shown how young people can inspire their peers. James Donaghy from John Mitchels GAA in Derry, spoke of his volunteering achievements assisting with underage coaching to develop young players. His volunteering efforts span across Gaelic and Soccer as well as raising over £8000 for Belfast Children's Hospital. Rachel Armstrong from Clogher Valley RFC highlighted that playing sport wasn't an option for all young people but that should not put off young non-players from being involved in sport. Rachel plays a key role in her club as PRO working in communication to promote her club and attract new members. Her story highlighted that there really is something for everyone in sport. 
The young sports volunteers were awarded by their respective presidents with certificates for 50 hours, 100 hours and 200 hours volunteering.   
Irish FA President Conrad Kirkwood said, "The Sports Inspire Awards give us an opportunity to recognise young volunteers who contribute to sports. Our clubs can benefit greatly from the involvement of young volunteers, gaining from their skills and innovative approach; while the young people can gain from being involved in a sports club by developing their skills and knowledge which benefits them greatly for UCAS applications and job interviews." 
Greg Irwin, Chair of Rugby Committee at Ulster said, "We are so proud to see so many young people from across all three sports, contributing so significantly to their clubs and their communities through the Sports Inspire Awards. Young volunteers are inspirational, and this awards ceremony has shown the hugely positive impact young people are making every day through sport. That is why it is so important for us to celebrate youth volunteers." 
Ulster GAA President Ciaran McLaughlin said, "It is inspirational to see so many young people step up, make the time for volunteering and positively impact their community. Many of these young people are also playing sport, some are not and that ok. But they are also studying at school, tech or university and have all the distractions that comes with being young. And yet they can still find time to come down to their club to help out and that is something really special. We are proud to raise up our young volunteers and hope they inspire others to play their part." 
The special evening concluded with a motivating conversation with Northern Ireland international Marissa Callaghan who encouraged the young people to keep doing what they were doing to help develop their clubs and young members. Marissa inspired with her experience playing and volunteering in sport and of course her part in the huge achievements of Northern Ireland's women's team.Although Marissa is now a household name as a leading sportswoman she continues to volunteer in her club and is a real role model to volunteers in all sports. 
We congratulate all the young people who were awarded with their Sports Inspire Awards.