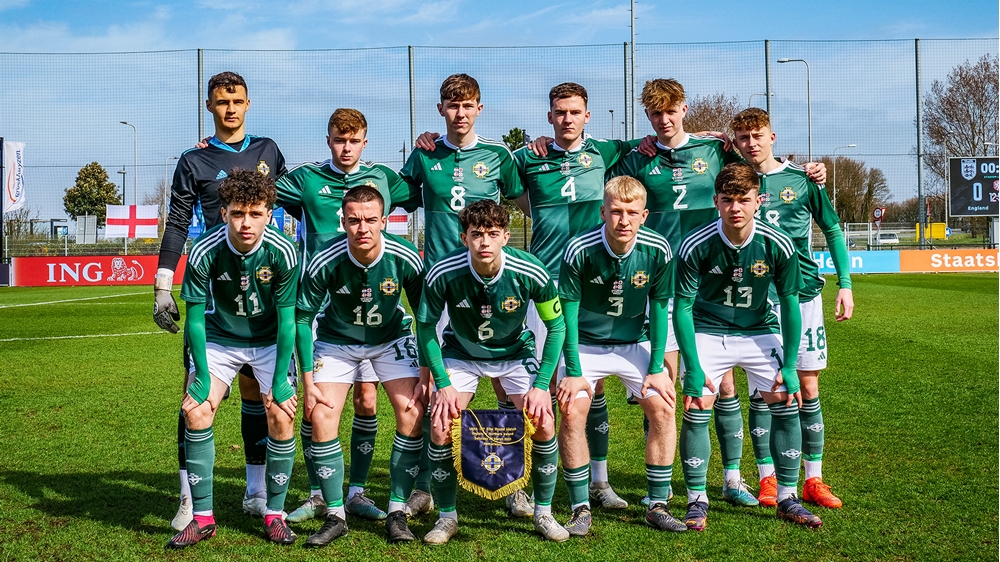 Two second-half goals from Arsenal midfielder Ethan Nwaneri saw Northern Ireland U17s fall to defeat against England in the Netherlands.
Competition
U17 Euro 2023 Elite Qualifying Round – Group 3
Scoreline
Northern Ireland U17s 0-2 England U17s
Scorers
England U17s: Ethan Nwaneri (63', 82')
Venue
Gemeentelijk Sportpark SJC, Noordwijk
Date
Saturday 25 March 2023
Team News
This was the second of the U17 team's games in Group 3 of elite round qualifying for the UEFA U17 European Championship.
Northern Ireland lost their opening game in stoppage time to hosts Netherlands on Wednesday, while England defeated Denmark 3-1.
Joint coaches Kris Lindsay and Sean-Paul Murray made a number of changes for the game, bringing in Mason Munn, Aodhan Doherty and Jack Hastings to the starting XI, while Dara McAuley came on to the bench.
Dungannon Swifts midfielder Ryan Donnelly was named captain for the game.
How it happened
The sides traded chances during the opening exchanges with Thomas Watson having an early effort for England and Northern Ireland skipper Ryan Donnelly testing keeper Tommy Setford at the other end.
Indeed that pattern continued as the first half progressed with Northern Ireland's Tom Atcheson having an effort on goal from a Brendan Hamilton free-kick and Watson replying for England a few minutes later, denied by keeper Mason Munn.
But, all in all, it was a closely fought but scoreless first half with neither side able to gain the upper hand.
Half-time: England U17s 0-0 Northern Ireland U17s
Jack Hastings tested Setford nine minutes into the second half, however England stepped up a gear after that and created a couple of opportunities for Jayden Meghoma and Ethan Nwaneri before Watson had an effort blocked by Munn.
The deadlock was broken just after the hour when Nwaneri and Meghoma combined for the former to send the ball past Munn into the net.
England pressed for the crucial second goal, Ishe Samuels-Smith missing the target with around a quarter-of-an-hour to go.
With eight minutes remaining, Arsenal's Nwaneri doubled his tally to secure the win for England.
Full-time: England U17s 2-0 Northern Ireland U17s
Line-ups
England U17s: Tommy Setford, Joshua Acheampong, Lakyle Samuel (Eyimofe Jemide 89'), Ishe Samuels-Smith, Jayden Meghoma, Isaiah Dada-Mascoll (Myles Lewis-Skelly 64'), Michael Golding (Jamaldeen Jimoh 89'), Ethan Nwaneri (Tyler Dibling 89'), Lewis Miley, Thomas Watson, Zak Lovelace (Justin Oboavwoduo 64'). Subs not used: Finlay Herrick (GK), Somto Boniface, Archie Gray, Kiano Dyer.
Northern Ireland U17s: Mason Munn, Harry Lynch, Tom Atcheson, Josh Briggs, Brendan Hamilton, Ryan Donnelly, Kieran Morrison (Casey Smyth 87'), Francis Turley, Callum McCay, Aodhan Doherty (James Douglas 65'), Jack Hastings (Oscar Kelly 71'). Subs not used: Dara McAuley (GK), Adhamh Patton, Calum Moreland, Callum Cowan, Ciaran O'Hara.