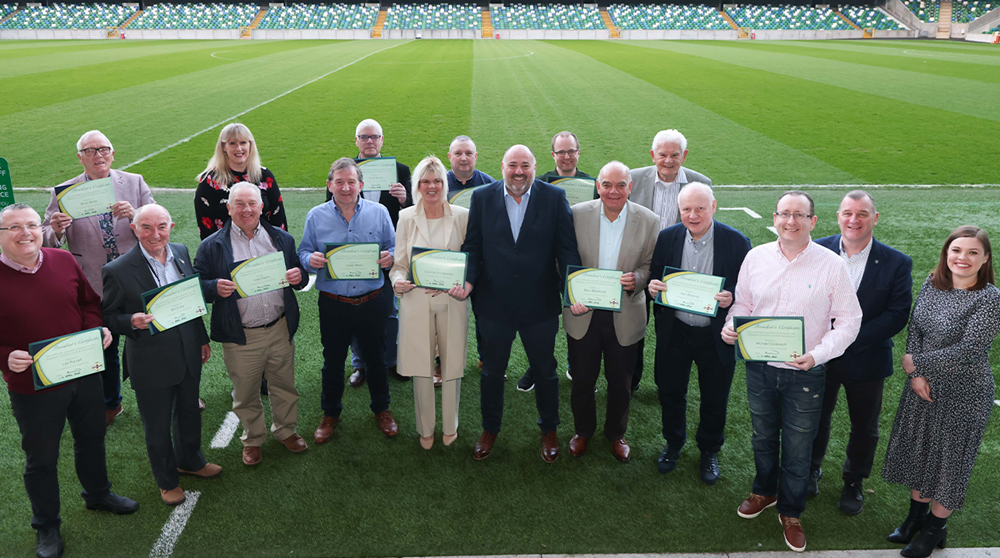 Irish FA President Conrad Kirkwood has paid tribute to volunteers who work in the association's Education and Heritage Centre at the National Football Stadium at Windsor Park.
The President staged a special event to introduce a new Certificate of Recognition which will highlight volunteers who have made key contributions in their field.
Kirkwood explained that it was fitting to introduce the certificate on the fifth anniversary of the opening of the EHC, with tour guides and volunteers at the centre being the first to receive it.
He said: "Our tour guides and volunteers are fiercely passionate and incredibly knowledgeable. It is a winning combination, and we are fortunate to have such expertise on hand.
"I wanted them to witness and experience the VIP treatment for themselves so I was honoured that they could join the Chief Executive and myself in the George Best Lounge for a special dinner for what I hope, for them, was a really enjoyable evening. I certainly took lots from it."
The EHC, which has welcomed more than 25,000 people through its doors since opening in March 2017, tells the story of Northern Ireland football using a variety of media, interactive displays and key artefacts from the 1880s to the present day.
Part of Irish FA Tours, it is operated by a 20-strong team of experienced and knowledgeable volunteers who are supported by Irish FA staff, and it's rated number two out of 223 things to do in Belfast on TripAdvisor.
Kirkwood confirmed that there will be other recipients of the certificate in the coming months covering volunteers who are involved in different areas of the Irish FA's work.
He added: "I've made no secret of the great many benefits volunteering can bring. I know this from personal experience at my own club and I am proud that a real diversity of volunteering takes place across our operation.
"Volunteers are valuable not only to us as a governing body but to everyone who is interested in the rich history of the beautiful game here in Northern Ireland."