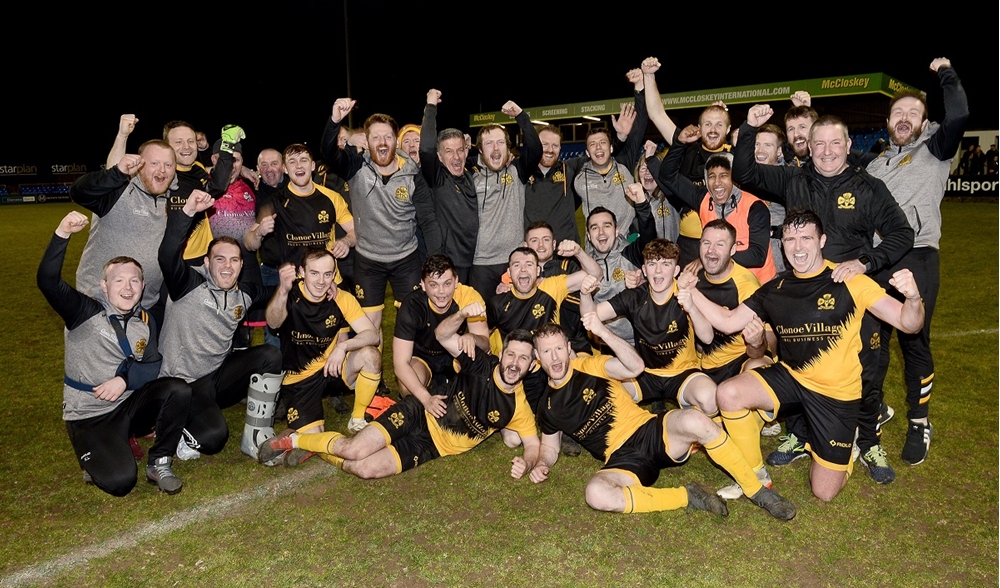 (Coalisland Athletic celebrate their 2-1 victory. Picture: Gary Hancock)

Coalisland Athletic came from behind to reach the final of the fonaCAB Junior Cup with a 2-1 victory over Strathroy Harps at Stangmore Park.
Harps, back-to-back winners a decade ago, made all the early running but despite their probing couldn't find a way past a resolute Coalisland defence.
A very nip and tuck affair, both sides had shots on target but each defence stood firm with credit also going to Coalisland keeper Colin McNally and his opposite number, Dermot Donnelly, in keeping the game scoreless.
That elusive opening goal almost arrived right at the end of the first half when Coalisland's Conor Lavery shaved the base of the far post with an effort across the face of goal as Donnelly could only look on.
However, the deadlock was broken just three minutes after the interval when a cross from Mark Sloan was met by Strathroy's Joachim Smith who volleyed past McNally into the top left corner.
Coalisland upped the tempo in pursuit of the equaliser and duly grabbed it just before the hour from a corner which Daryl Magee knocked home from the right edge of the area.
That was how it stayed as both sides tried to gain control of the game but, as time progressed, it looked like it would require at least extra-time to find the winner.
But that all changed in the 90th minute when Coalisland were awarded a spot-kick and Sean Corr stepped up to fire the winner beyond Donnelly and secure a place in the final against Bangor YM.