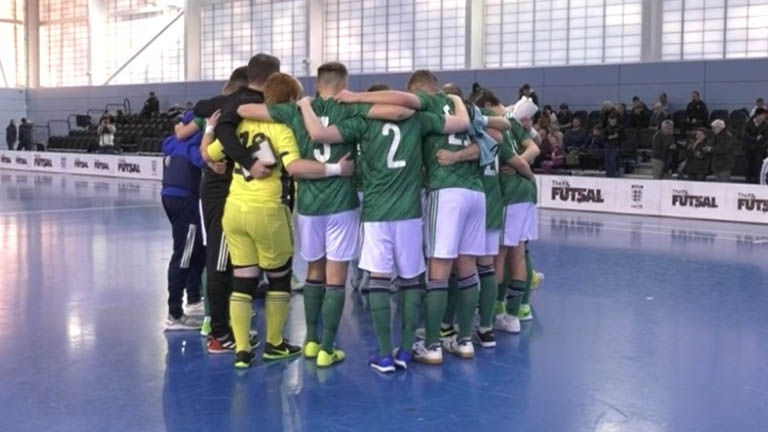 The Northern Ireland men's international futsal team will be taking part in the preliminary round of the European qualifiers for the 2024 FIFA Futsal World Cup next week.
Jonny Michael's team, who are due to face hosts Lithuania, Turkey and Israel, will be among 24 nations playing in six mini tournaments for 12 places in the main round.
Their first game in Group D will see them take on Israel on Tuesday (5 April). The following day Turkey will provide the opposition, while they are scheduled to face hosts Lithuania in their final game next Friday. The group winner and runner-up will progress to the next round. 
Northern Ireland team boss Michael said: "Our preparations have included a number of training weekends held in Belfast over the past few months. We have used this as an opportunity to trial new players and improve the depth in our squad.
"It has been pleasing to get everyone back together after restrictions halted the game for some time. Hopefully we are now in a position to gain momentum again and these qualifiers are the start of a new chapter for us as a group."
Northern Ireland have not played a competitive game in more than two years due to the Covid pandemic.
Michael added: "Our last campaign was in Lithuania and we played the hosts and Turkey back then. We know Lithuania will have significantly improved due to their involvement in the last Futsal World Cup.
"Israel are new to us but as a squad we look positively on this game and the one against Turkey as opportunities to secure a result. We have ambitions to climb the rankings, improve our coefficient and we believe we have the ability to cause an upset."
Irish FA Foundation Schools and Futsal Manager Gareth Allen said: "Everyone at the association would like to wish Jonny and the team well as they head to Lithuania. We hope that they have a great tournament and come back with good learnings to enable us to further move the game forward in Northern Ireland." 
The main qualification round in Europe is scheduled to be completed by early March 2023 with main round play-offs, an elite round and elite round play-offs following on.
Seven European teams will eventually compete at the final tournament with qualifying running from next April until April 2024. The host country and the exact dates for the World Cup finals in 2024 have yet to be determined.
Northern Ireland Men's Futsal Squad:
Goalkeepers – Matthew McErlain (Sparta Belfast), Philip Irvine (World United).
Defenders – Adam Barr (captain; Wessex), Darius Roohi (Loughborough Students).
Wings – John Gibson (Belfast United), Declan Starrs (Manchester), Scott Gunn (University of Sunderland), Ryan McMenemy (Omagh), Jack Magee (Belfast United), Joshua Lowry (Sparta Belfast), Conor Kernohan (Bergamo C5), Danny Stapleton (Manchester).
Pivots – Christopher Donnelly (Edina), Connor Millar (Wessex).