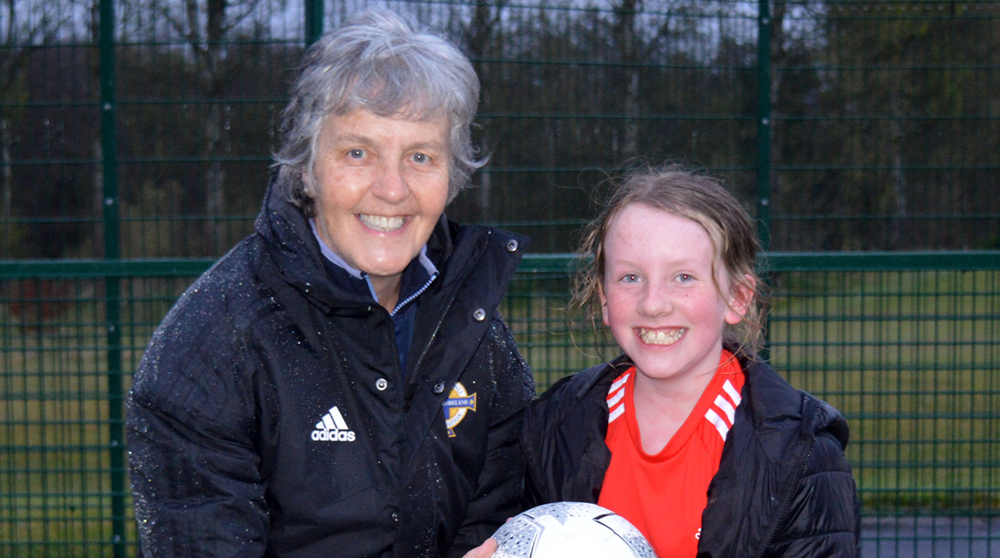 The future of women's and girls' football in Northern Ireland is bright, according to Irish FA Board member Cheryl Lamont CBE.
Lamont, who became the first female president of a football association in Northern Ireland when she was named president of the County Antrim and District FA in 2020, represents women's football on the Irish FA Board.
She was invited to visit two newly established women's and girls' teams in her native Ballymena -Carniny Amateur and Youth FC Girls and Raceview FC Ladies - last week.
"My role is to champion female participation in football at all levels, so I was honoured to be invited by Billy O'Flaherty and Jamie Mairs, managers at Carniny and Raceview respectively, to see the hard work and talent on show," she explained.
Lamont paid tribute to the role the Northern Ireland senior women's team has played in new teams like Carniny and Raceview forming.
"The surge in popularity afforded to women's and girls' football in recent years has been impossible to ignore," said Lamont. "The success of our senior women's team is, of course, a key factor.
"Visibility of these players on TV and social media has a domino effect for aspiring female footballers across the county. If they can see it, they can be it, and I'm delighted to witness this happening on the ground in Ballymena.
"Strategically, at board level, we need to ensure that football facilities are affordable and accessible to retain these players and attract more. It is a key part of our new five-year strategy, A Roadmap for Football, so I look forward to playing my part, alongside fellow board members and Irish FA staff, in making further inroads in this area."
Lamont, along with players from both Carniny and Raceview, will be in attendance at a sold-out National Football Stadium at Windsor Park tonight when Northern Ireland welcome England in their final FIFA Women's World Cup 2023 qualifier before they set off to Southampton to compete in UEFA Women's Euro 2022 this summer.