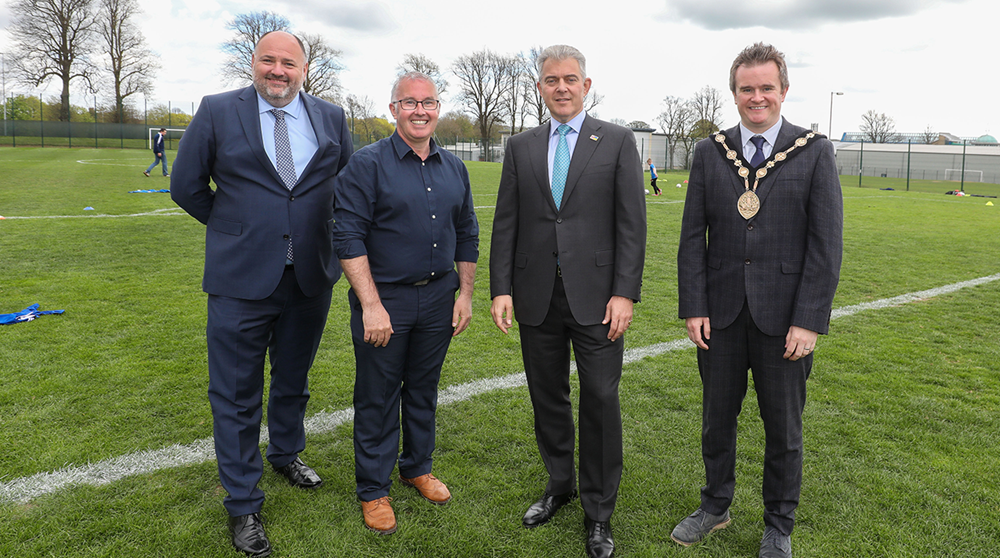 Northern Amateur Football League side Lisburn Rangers were visited by Irish FA President Conrad Kirkwood and Secretary of State Brandon Lewis this week.
The Secretary of State and the Irish FA President met staff and players to hear about exciting plans for the club's new multi-sport facility.
Lisburn Rangers' Stanley Park home has been boosted by £29,375 funding from the UK Government's Multi-Sport Grassroots Facilities Programme - delivered in partnership with the Irish Football Association - to improve facilities.
The programme, from the Department of Culture, Media and Sport, launched earlier this year. It allows grassroots football clubs in Northern Ireland to improve and refurbish facilities, helping to create a better grassroots football infrastructure.
A total funding pot of £700,000, distributed via the Irish FA, was made available for small capital grassroots projects to improve football infrastructure throughout the country, thus increasing participation in the grassroots game.
Secretary of State Brandon Lewis, a football lover who follows EFL Championship side Queens Park Rangers, said: "It was fantastic to visit Lisburn Rangers Football Club today to hear how the UK Government's Multi-Sport Grassroots Facilities Programme funding will improve facilities at Stanley Park.
"This project will afford the local community access to high quality sports facilities by providing a new changing facility that will support multiple teams, including the senior ladies team and a mini soccer academy encouraging young people to get active.
"I'm proud that this is one of 26 projects in Northern Ireland which will receive UK Government funding to make vital improvements, to improve pitches, changing rooms and pavilions, so that more local communities can access high quality facilities and will help level up access to quality sport provision. "
He was endorsed by Irish FA President Conrad Kirkwood, who said: "With the pandemic easing clubs are now regrouping and are back to promoting participation. Small amounts of money can make a huge difference at grassroots level and this funding will make a real impact for each of the 26 clubs that have been successful.
"I know the people involved in Lisburn Rangers well and they are a great example of a well-led club which is looking to improve the contribution that it makes in its community. Each of the clubs will have similar strong links to their communities at grassroots level."