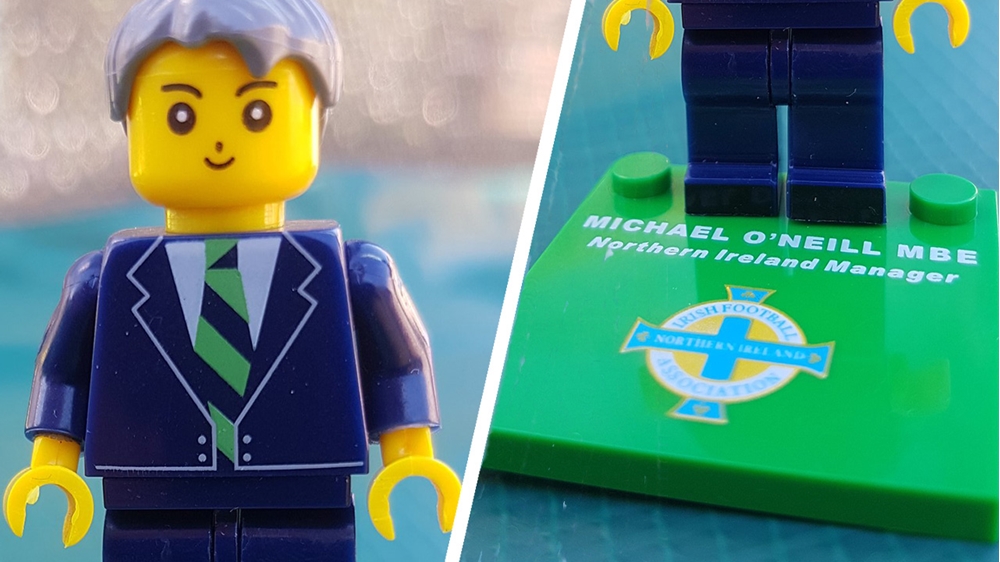 Community charities across Northern Ireland are set to score thanks to an unusual fundraising initiative by the London Northern Ireland Supporters Club.
The 'green and white army' exiles have a goal of raising £10,000 thanks to fun miniature likenesses of Northern Ireland manager Michael O'Neill.
Nicknamed the 'Wee MON', the novel idea has the backing of O'Neill himself, who said: "My family and I found it very amusing when we were presented with one of the little figures. It's great to think that something small has the potential to help raise such a large amount for local charities."
Revealing how the idea came about, London NISC chairman Neal Anderson explained: "The club brings together 200 NI fans from across London and SE England and we always try to do something creative for our annual membership pack. This year we came up with the idea of the 'Wee MON'. It was originally intended only for our members, but the sizable minimum order quantity from the supplier meant we ended up with a few spares."
Click here to get your Wee Mon LEGO figure and raise money for charity! 
The Portstewart native added: "The London NISC regularly raises funds for good causes back home, like our Euro 2016 single 'Making our Way to Paris'. As the club has already covered the costs of making the Wee MONs, we thought why not donate all proceeds from the spares to charity.
"Reflecting the size of the mini figure, we also wanted to help smaller organisations where the funds will make a genuine difference to local communities. Our members have nominated twenty charities across Northern Ireland."
The London NISC is now working together with The Amalgamation of NI Supporters Clubs to help promote the Wee MONs. Each one is available for a minimum donation of £5, plus postage.
For further information, contact:
Neal Anderson - Chairman, London Northern Ireland Supporters Club
Email: info@londonnisc.co.uk