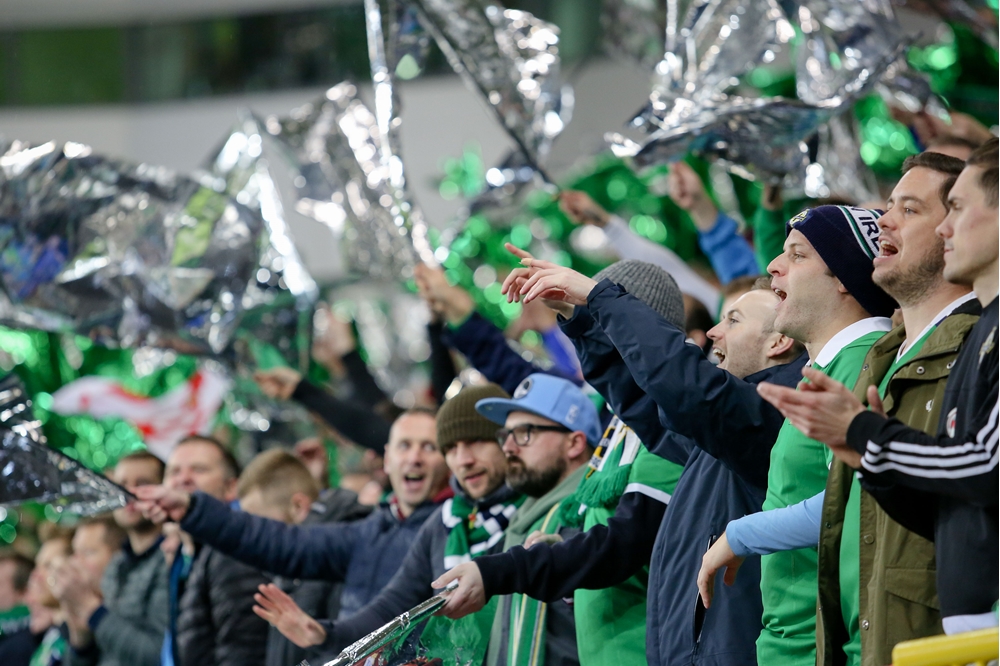 There's nothing like a collective chorus to get the party started at the National Football Stadium at Windsor Park, writes Heidi McAlpin.
It's as much part of your football experience as chomping on a big greasy burger, imbibing on a fine tonic wine and purchasing the prized programme.
Win, lose or draw, matchdays are made all the sweeter with a stadium-rousing rendition or two to galvanise the crowd and fire up the players. 
So let's take a moment to reflect on those beautiful tunes that have immortalised iconic players and unforgettable events. 
Many fine ditties have graced the stands, some lasting better than others (Yer Man anyone?). 
But the unofficial anthem that has stood the ravages of time has to be We're Not Brazil. This cast-iron singalong mixes the tune of The Battle Hymn Of The Republicwith words by Northern Ireland fan Stewart McAfee who has cleverly combined tournament successes with our self-deprecating wit.
Singers, including yours truly, often let slip their vintage when it comes to the line espousing 'our leader'. In my case it's Sammywho gets the nod. Mr McIlroy's tenure as team manager marked our infamous record-breaking goalless run that inspired the song's gallows humour. Subsequent managers may have fared better but Lawrie, Nigel and Michael will forever evade my vocal recall.
And only the diehard GAWA can be heard belting out those extra verses added by maestros Jones and Fullerton. But it's all the same to me. 
Any self-respecting DJ has a few floorfillers up their sleeve, and it's no different at Studio Windsor Park. Enter Neil Diamond with his arms aloft megahit. Fans only need to hear those opening nah nah nahs and we're out of our seats, clapping our hands and building to the delicious climax that is Sweet Caroline. If Windsor had a roof it would surely be raised. So good, so good, so good.
Coming a close third in my Top of the Kops has to be Away In A Manger. This classic Christmas carol plays out in the traditional way until that final well-taken curve ball has everyone chanting as one… Healy! Healy! Healy! You don't hear it so much these days, but now and again its retro strains get a good airing. And not just from Linfield fans.
Somewhat prophetically this very song is etched on a Northern Ireland T-shirt I wore at that England match. Straight after the game I headed to Hunter's to revel in the TV repeat when an English couple commented on my sartorial soothsaying skills, How did you know?! Naturally, the entire pub was singing along, none louder than our new-found England chums. 
Of course, over the years many players have been immortalised in song. With this article being available to a family audience, however, I am obliged to refrain from sharing some of the more, how shall I put it, mature lyrics. Suffice to say Clingan and Davis may need to check who's in the room before sharing theirs.
Meanwhile, censorship-free faves of mine include Jonny, Jonny, Jonny, Jonny, Jonny, Jonny Evans, Corry, Corry, Corry Corry Corry Corry Evans (including high/low dance). He's Tall, He's Thin, He Looks Like Jimmy Quinn. He's Jimmy Quinn, Jimmy Quiiiiin. And, for pure nostalgia, Artur Boruc, Artur Boruc, Artur Boruc, Ulster's Number 1.
Notable mentions must also go to perennial fan faves Let's All Do The Bouncy, Oooooh Gareth McAuley/Michael McGovern (insert as appropriate) and Michael, Give Us A Wave. Michael, Michael, Give Us A Wave (followed by a bellowing yeowww when Michael does, indeed, give us a wave).
You thought you'd got through an entire feature without it, didn't you? No chance. Especially now he's been recalled to the squad. Mr Grigg, if you're reading, look away now. I know you have a bittersweet relationship with this particular earworm.
Little did Wigan fan Sean Kennedy know that words he put to Gala's club hit Freed From Desire would, thanks to the GAWA, become the unofficial anthem of Euro 2016. Will Grigg's On Fire had fans from all across Europe singing in the bars and on the streets of France and beyond as Northern Ireland progressed through the rounds. Even Cantona fell under its spell. 
And, for me, singing along to the Parc des Princes PA system a full 40 minutes after our defeat to Germany will remain long in the memory, especially as many German fans stayed, too, watching, videoing and relishing the occasion. This is what a good song can do. Bring everyone together in (almost) perfect harmony. Now That's What I Call GAWA.