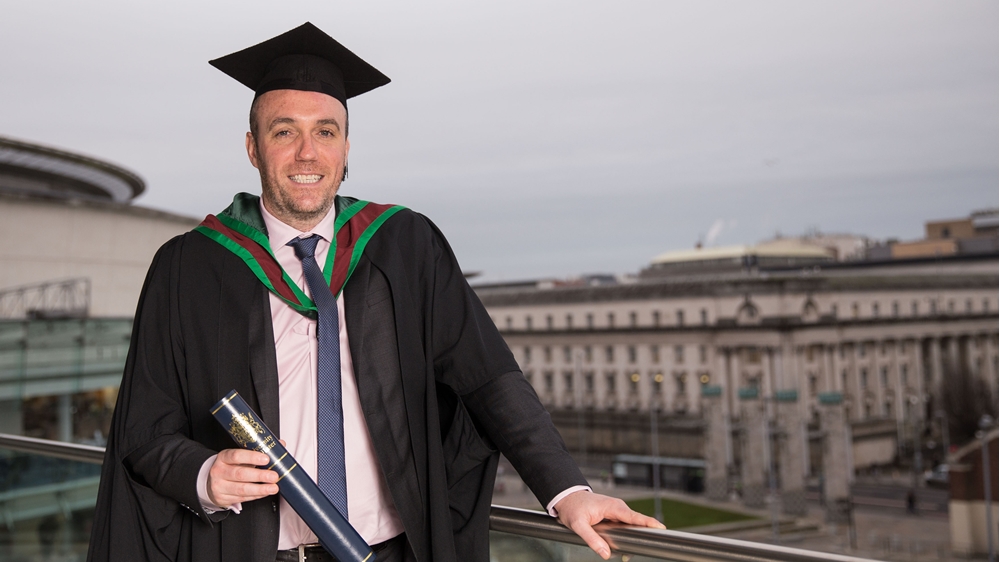 Michael Boyd, Director of Football Development at the Irish Football Association, has been named as First Trust Bank / Ulster University Distinguished Graduate of the Year.
The award recognises graduates for outstanding achievement in their chosen field and Michael has dedicated it to 'NI fans, and Irish FA staff and volunteers'.
Michael graduated from Ulster University with an Advanced Diploma in Management Practice in 2005, an MSc in Communication, Advertising and Public Relations in 2001 and a BA Hons Sport and Leisure Studies in 1999.
Michael's career with the IFA began as a placement student and his career has gone from strength to strength. He was one of the youngest ever European A Licence Coaches and has been a member of the Irish FA Strategic Leadership Team since 2004.
He also spearheaded the high profile Football For All campaign, which was chosen by both UEFA and the Special EU Programmes Body to represent Northern Ireland at major Corporate Social Responsibility and Peace conferences in Sarajevo and Brussels.
Today Michael leads the Irish FA Foundation charity, which covers the women's game, disability, grassroots and youth football, schools development, refereeing, mental health, employability, Homeless Football and futsal.
He led the development of the 10-year Let Them Play youth football strategy for Northern Ireland that has seen participation levels in football in Northern Ireland increase dramatically.
Michael commented: "It is an honour to receive this award from Ulster University and I would like to dedicate it to the NI fans, all the Irish FA staff and volunteers from across the business who have made Football for All a success. The team and I are passionate about working with partners to serve the community through football and this award is a reflection of the success of the team. I am very proud to receive the Distinguished Graduate Award and will do my best to be a positive ambassador for the university."
Eddie Friel, Director of Development and Alumni Relations, Ulster University, said: "We are delighted to award Michael with our Distinguished Graduate Award. Michael is an excellent ambassador for Ulster University; his drive and ambition have allowed him to excel in his chosen field. He has devised, inspired and led award winning projects and strategies to tackle sectarianism in the Northern Ireland game, using football as a hook for mental health, education and employability; and to increase participation for all. His success serves as an inspiration to Ulster University students and alumni."
Congratulating Michael, Charlotte Maguire, Branch Manager at First Trust Bank who has supported the Award since 2001 added: "Michael's exemplary leadership skills and focus on diversity and inclusion distinguish him as a Northern Ireland trailblazer. He is a beacon of inspiration not just in the world of sport, but across the wider business community. We are proud to present him with the Distinguished Graduate Award in recognition of his transformational leadership style and ability to inspire change."