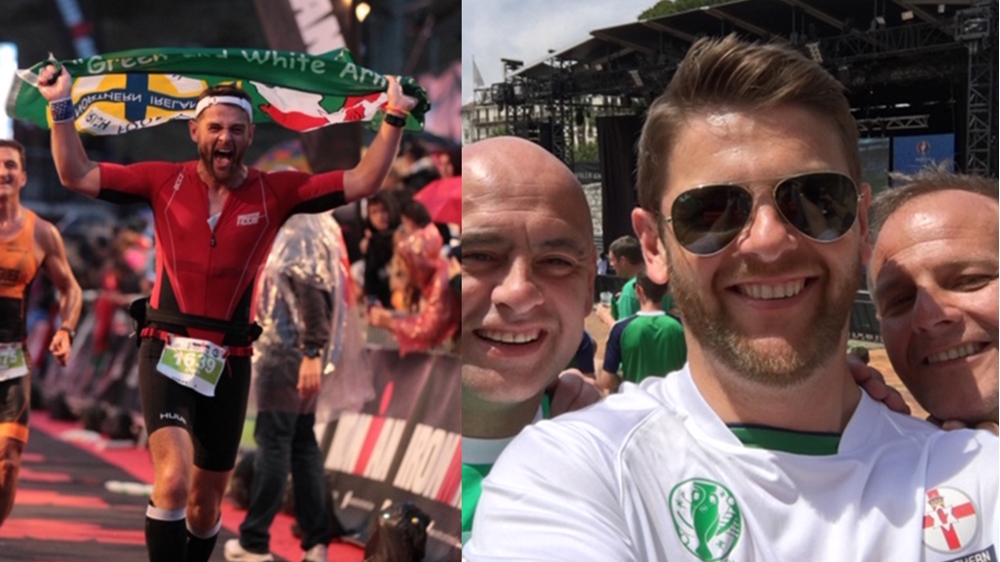 Mark Adamson has been a Northern Ireland fan all his life and secured his Fan of the Month status in November with the wave of a flag at the perfect moment. 
After 11 hours battling his way through the Barcelona Iron Man challenge, when the finish line approached Mark could think of nothing better than to wrap himself in a Northern Ireland flag to cross the finish line with.
"The finish line was going crazy with spectators and many flags were on display," Mark said. "After nearly 11 fatiguing hours, I spotted my eldest boy in amongst the crowd waving the NI flag.
"I couldn't believe it, nor could I help myself. It was a fitting and emotional end to 12 months of hard training."
At 41, Mark has been a part of the Green and White Army from childhood and can even remember his first piece of Northern Ireland memorabilia. 
"I've been supporting Northern Ireland all my life," he said. "I can still remember my 1982 Northern Ireland World Cup tracksuit (I was 5 years old then) that my grandad bought me. 
"I'd never quit on my national team, no matter what results we achieve.  'Winners never quit; quitters never win' is my old mantra."  
Following the draw for the UEFA Euro 2020 qualifiers, Mark is particularly excited to see the team playing again after delivering encouraging performances despite frustrating results in the Nations League. 
He revealed: "In my opinion we displayed a great level of football during the Nations League campaign and got nothing from it.
"I'm sure many thought the Euros were a once in a generation, however the current quality of football would suggest otherwise. Bring it on! Green and White Army!"
Do you know someone that deserves to be our Fan of the Month? Contact us on social media to submit a nomination! 
Twitter: @northernireland
Instagram: @northernireland
Facebook: facebook.com/northernireland