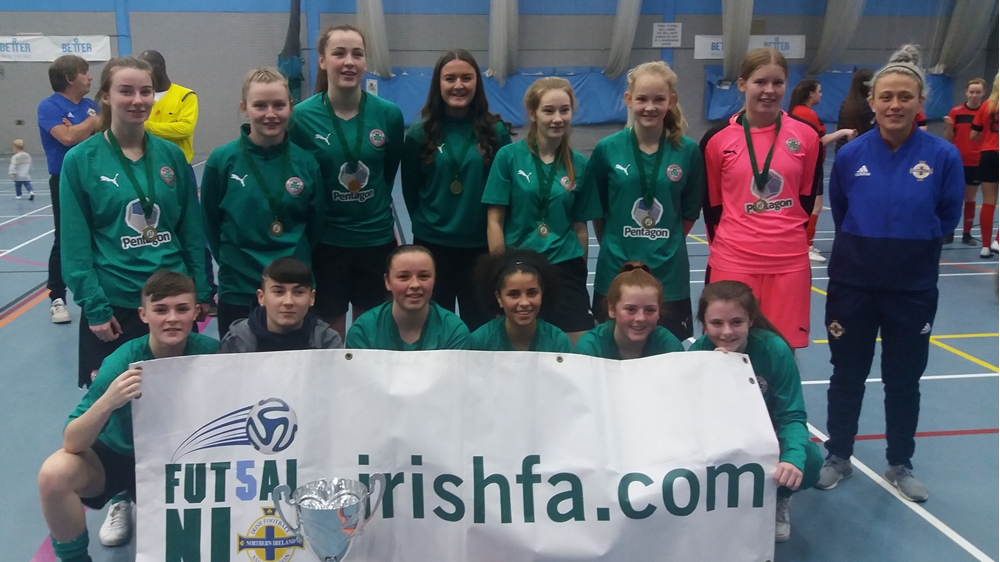 Cliftonville Ladies won an eight-goal thriller against local rivals Crusaders Strikers to be crowned Northern Ireland Women's Under-17 Futsal League champions.
The North Belfast teams faced each other at Shankill Leisure Centre in the league final – and it was a cracking match.
Cliftonville took the game to the Strikers early on and grabbed the lead through Rosie Thompson.
The Reds continued to push forward and went further ahead when Megan Copeland produced a decent finish.
At this stage Crusaders were struggling to get a foothold in the game and it was no great surprise when the Reds extended their lead further. Rosie Zubier made it 3-0 with a great solo effort. 
Just before half-time, however, the Crues finally started to exert some pressure and Lucy Kirgan narrowed the deficit.
The goal appeared to lift the Strikers' spirits and they pulled another one back straight from the restart. Jess Rea was the scorer.
The Strikers then pushed for an equaliser, but in doing so they left gaps at the back which the Reds exploited. Two quickfire goals from Cliftonville, netted by Abbie McHenry and Leah McEvoy, snuffed out any hope of a Crues comeback.
Jess Rea got on the scoresheet again for the Strikers but by that stage the trophy was firmly in Cliftonville's hands. And the Reds deserved their 5-3 victory over their local rivals.