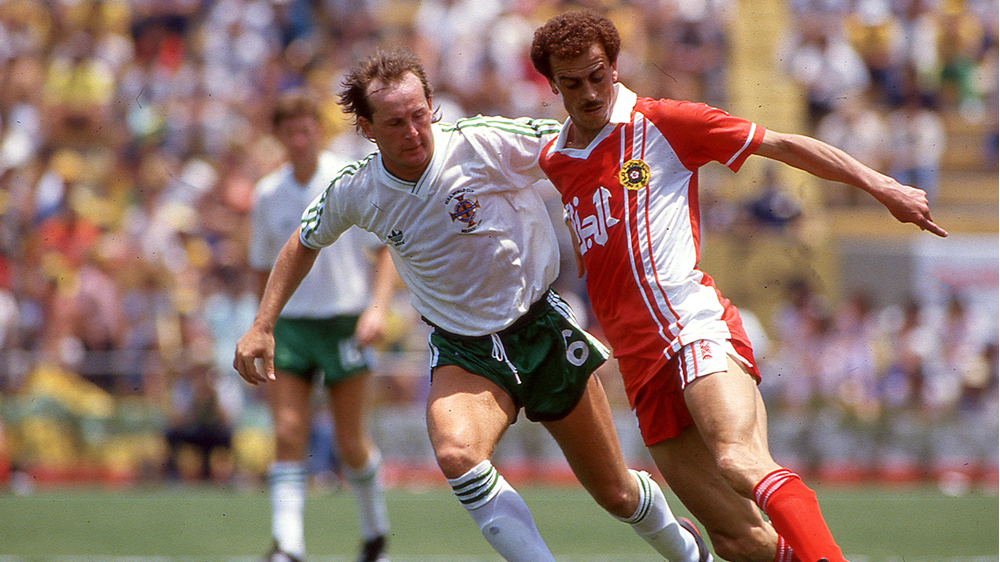 On the eve of the FIFA 2022 World Cup in Qatar, David McCreery found himself retracing his steps back to a golden age of Northern Ireland football.
Forty years after playing a key role in an intoxicating odyssey at the 1982 tournament, he was immersing himself in YouTube videos at his home in the north east of England.
Losing himself in the blurry pictures, lurching from one sunlit recollection to the next, biting at high-profile heels and launching into midfield tussles all over again.
The memories remain as vivid as the azure blue skies of Valencia, Zaragoza and Madrid where Billy Bingham and his players carved their names in football folklore.
"I love the opportunity to watch old Northern Ireland games back," says McCreery midway through the interview. "They bring back very special memories.
"Nobody gave us a chance at the 1982 World Cup but Billy had us so well prepared and we proved the doubters wrong. What we achieved that summer makes me very proud."  
While a fabled 1-0 win over Spain thanks to a Gerry Armstrong strike in Valencia dominates the narrative four decades on - "I still get goosebumps thinking of that goal" - McCreery's eyes light up as other highlights from 1982 gatecrash the conversation.
Did you know for example that Northern Ireland's opening group opponents Yugoslavia topped their qualifying group ahead of Italy who went on to win that year's World Cup? 
It is a startling fact that has been largely lost in the mists of time.
No commemorative DVDs are available of Northern Ireland's durable display against Yugoslavia in Zaragoza but it was a scoreless draw that caught the eye.
"I was nervous before the Yugoslavia game, mainly because it was such a huge test and I didn't want to let anyone down," said McCreery. 
We were like a band of brothers and that summer can never be taken away from us
"Yugoslavia had some top players like Vladimir Petrovic who went on to play for Arsenal and the likes of (Safet) Susic and (Zlatko) Vujovic who could change a game in an instant.
"In the changing room afterwards we knew that result could be a real catalyst for us. I think a lot of people realised we were there by right and would be hard to beat."
A 1-1 draw with Honduras and THAT famous win over the Spaniards ensured Northern Ireland topped the group and progressed to the second stage where they would meet France and Austria in a three nation group with the winners progressing to the semi-finals.
First up were the Austrians where Billy Hamilton's air punching, windmill celebration took centre stage in a chaotic 2-2 draw at the Estadio Vicente Calderon in Madrid.
Hamilton swept home a Gerry Armstrong cross to open the scoring and stooped to head home a 78th minute equaliser after Austria had surged into a second half lead.
"To go 2-1 down really tested us as a team and our character but we showed a real never-say-die attitude against Austria," said McCreery.
"It was the same in the Spain game. Playing the hosts in their own backyard was very intimidating and I remember coins being thrown at us during the warm-up.
"When they sang the Spanish national anthem it was deafening. It was a cauldron that night and I think everyone expected us to lie down, but we didn't."
Northern Ireland's World Cup adventure would end in a 4-1 defeat to a classy French side, although McCreery was left with a strong sense of 'what might have been'.
Review the YouTube highlights and you'll find that Martin O'Neill fired home early doors, only for an errant linesman's flag to rule out a perfectly good goal for offside.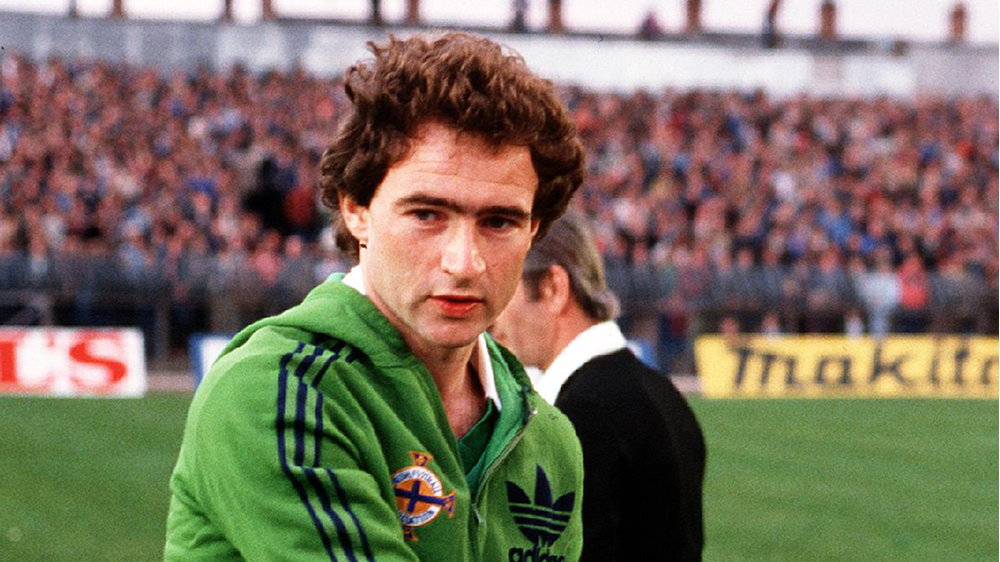 A cursory pause of the grainy footage shows O'Neill was almost two yards onside when Norman Whiteside's first time pass played him in on goal.
"Where was VAR when we really needed it?" asked a rueful McCreery, who got to witness the soft shoe artistry of French captain Michel Platini at close quarters in Madrid. 
Platini, a cultured playmaker and three-time Ballon D'Or winner in 1984, 1985 and 1986, went on to inspire his country to UEFA Euro 1984 success just two years later.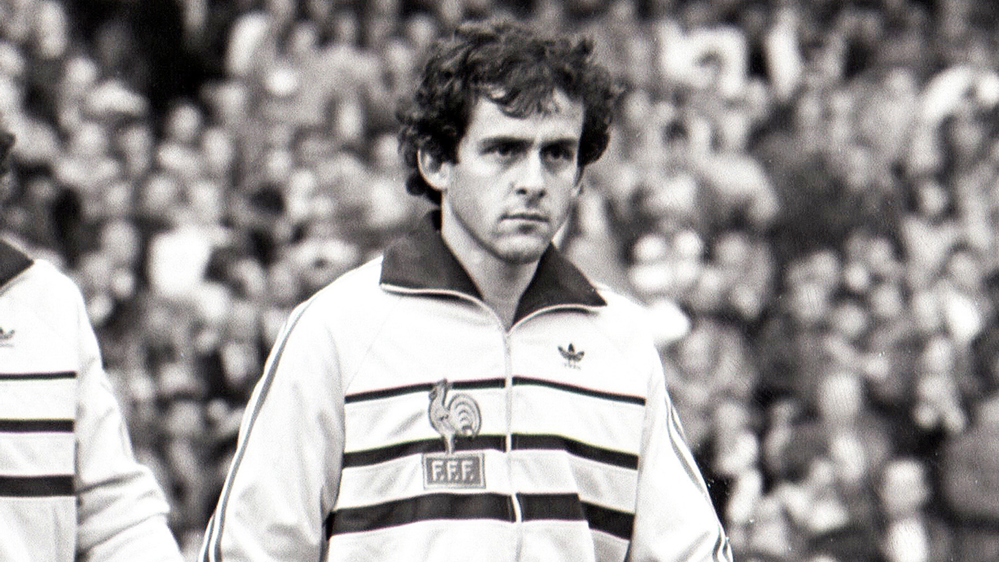 "Platini had a real swagger and he was so confident on the ball," said McCreery. "I remember thinking he had a really intelligent range of passing.
"During my playing career I came up against the likes of Johan Cruyff, Gheorghe Hagi and (Brazilian duo) Zico and Socrates, but Platini was up there with the best.
"He was such a talented player but he also had a brilliant supporting cast in the likes of Jean Tigana, Alain Giresse, Marius Tresor and Dominique Rocheteau. What a side that was.
"I came off after 86 minutes but it felt like 186 minutes. Having said that, I do wonder what might have been if Martin's goal hadn't been ruled out for offside.
"If we'd had a lead to defend, it might have been a different game. I'm not saying we would have gone on to win, but who knows? It might have planted a seed of doubt."
If that nagging frustration remains, so do the gilded moments and memories of a special time and team.
McCreery, who also played at the 1986 World Cup in Mexico four years later (see McCreery pictured left of front row in team pic below), said: "Stepping out at the 1982 World Cup was one of the greatest experiences of my life.
"I always said it was an honour to represent my country 67 times but being part of that team in Spain 40 years ago was beyond special.
"As a manager, Billy had us so organised. He also had a real presence which everyone respected and it meant we worked harder for him and each other.
"We were like a band of brothers and that summer can never be taken away from us."