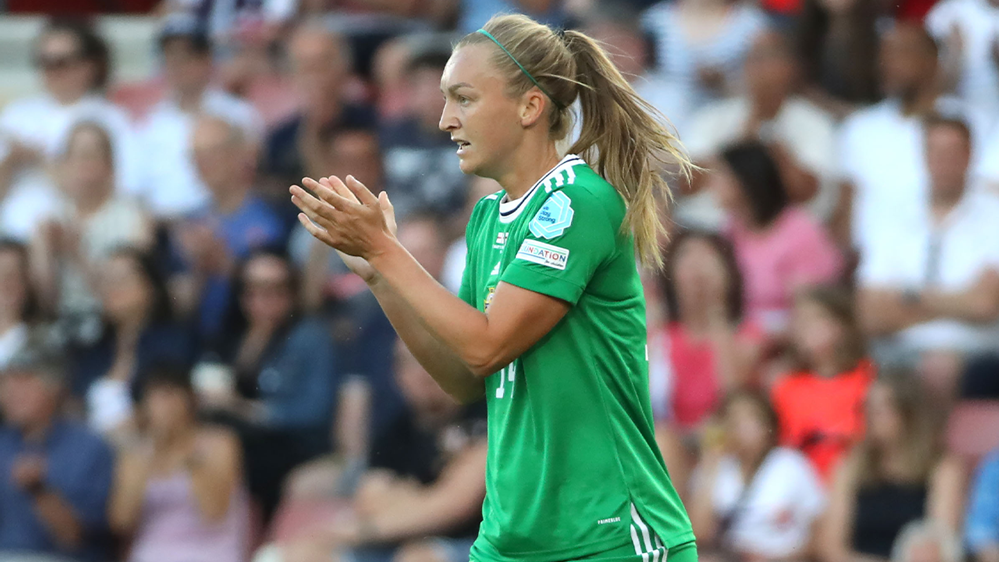 Northern Ireland striker Lauren Wade was on the scoresheet for Women's Super League side Reading for the first time in their 3-1 defeat at Aston Villa at the weekend.
The 28-year-old, who was part of Kenny Shiels' team that recorded a memorable 1-0 victory over Italy last week, opened her account after just seven minutes of yesterday's encounter at Villa Park.
The last year has been a very special one. From starting the full-time programme with Northern Ireland to the Euros and then signing for Reading in the WSL
"It's always a great feeling getting on the scoresheet," Lauren told irishfa.com. "It was nice to finally score my first goal for Reading.
"I love representing my country and our win over Italy was massive for us as a team. The last year has been a very special one, from starting the full-time training programme with Northern Ireland to the Euros and then signing for Reading in the WSL."
It was a disappointing day for Wade's club and international team-mate Jackie Burns who received a straight red card for a professional foul in the 65th minute.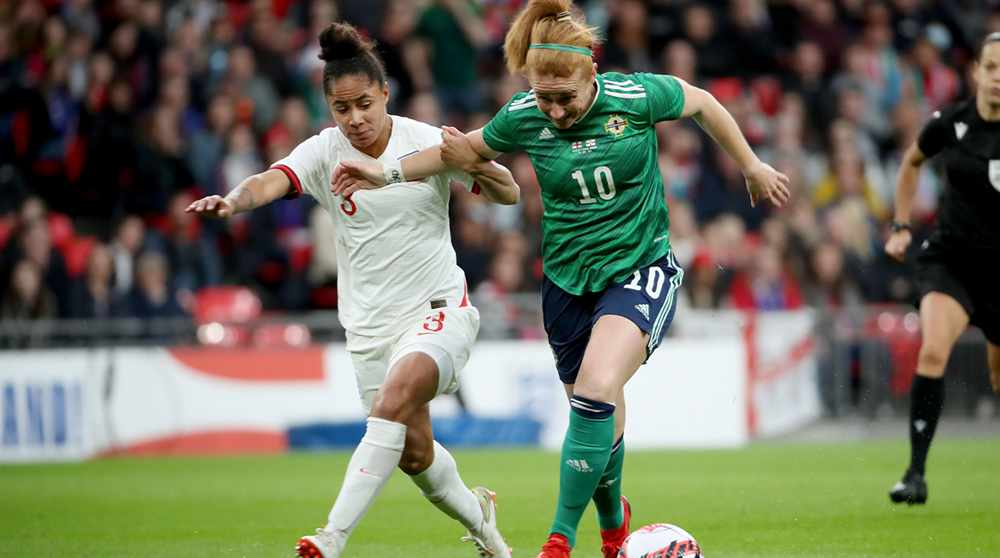 Elsewhere in the WSL, Rachel Furness (above) headed a 92nd-minute equaliser - her first of the season - as Liverpool snatched a draw at Brighton & Hove Albion to end a run of six successive defeats. 
In the Women's Championship Northern Ireland's goalscoring hero against the Italians, Sarah McFadden, weighed in with two assists as Durham Women defeated bottom-of-the-table Coventry United 5-1 to record just their third victory of the season.
In League One Conor Bradley chalked up his fourth goal of the campaign as Bolton Wanderers, who also had Dion Charles in their starting line-up, came from a goal down to win 2-1 at Fleetwood Town, while Tom Flanagan and Carl Winchester both played the full 90 minutes as Shrewsbury Town lost by a single goal at Sheffield Wednesday.
Left-back Ciaron Brown started Oxford United's draw at home to Forest Green Rovers and goalkeeper Luke Southwood kept his seventh clean sheet of the season as Cheltenham Town made it four games unbeaten with a 1-0 victory at home to Wycombe Wanderers. Meanwhile in the U21 Premier League Cup Dale Taylor scored his fourth goal of the season as Nottingham Forest, who also had Aaron Donnelly and Jamie McDonnell in their team, defeated Hull City 1-0.
With no fixtures in the Championship until after the FIFA World Cup, defender Brodie Spencer was in action for Huddersfield Town's U21 side that beat West Brom 1-0 and Tandragee-born centre back Josh Roney played in Stoke City's draw at home to a highly rated Arsenal U21 side.