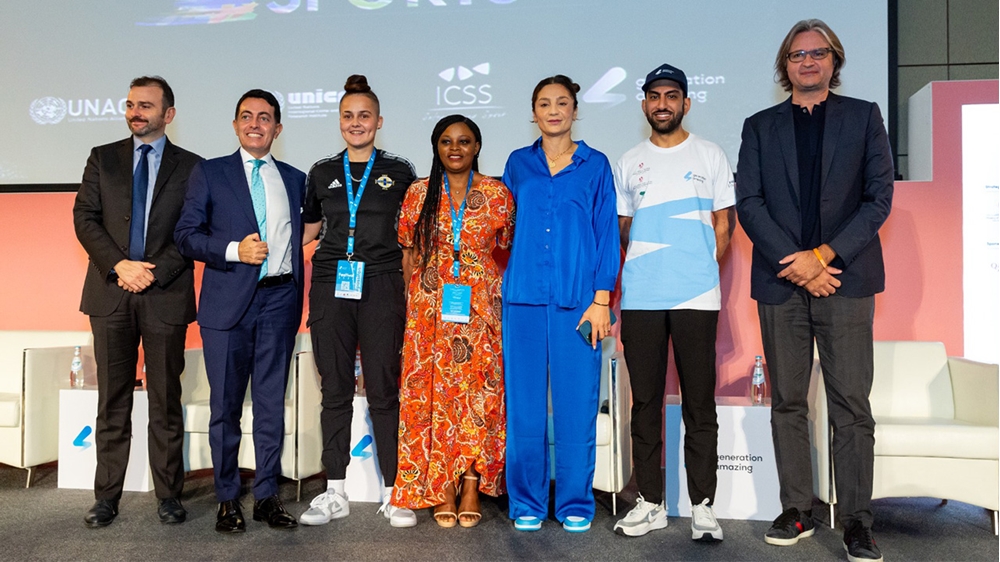 A participant from a flagship Irish FA Foundation programme joined a special United Nations event at the weekend as part of the build-up to the FIFA World Cup in Qatar. 
Kelsey McCormick, from Lisburn, took part in the Irish FA Foundation's Fresh Start Through Sport programme, which uses the power of football to prevent young people falling into criminality. The programme was one of a host of best practice projects to be selected by the United Nations and highlighted at its 'More Than A Game' event in Qatar prior to the World Cup. 
Kelsey joined in a roundtable discussion at the event featuring Dr Nadia Nadim, formerly of Manchester City and Paris Saint-Germain and widely considered to be the greatest Afghani female footballer of all time. She was joined by over 100 young people and athletes all of whom are contributing to the prevention of violent extremism and promoting peace within their communities. 
Kelsey recounted her own personal journey, where, after the death of her grandad, she turned to alcohol, leading to depression and several arrests. Kelsey has described Fresh Start Through Sport, a 16-week programme, as a 'turning point'. She is now an ambassador, assisting in the delivery of a range of different projects as well as becoming an Irish FA employee.  
Speaking about her visit to Qatar, Kelsey said: "What an experience getting to learn more about other people's cultures and trying new activities in football with young children from around the world. Every day has been a dream come true. I cannot wait to see what my future will hold."
More information on the campaign can be found at https://www.un.org/counterterrorism/events/launch-morethanagame-media-campaign