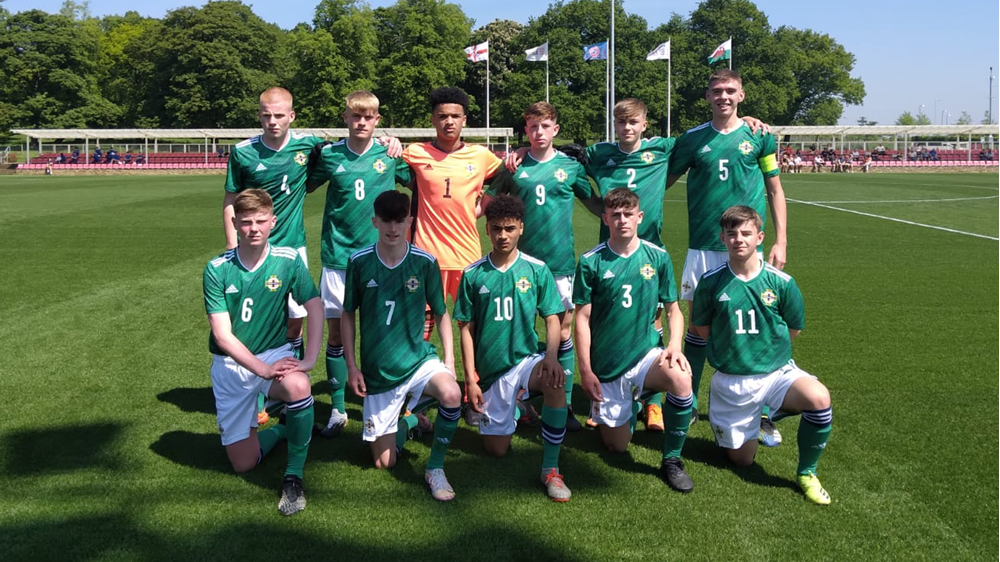 Northern Ireland's Under-17 men's team produced an excellent performance when defeating Wales 3-0 this afternoon.
Gerard Lyttle's side are at a training camp in England this week which includes friendlies against both Wales and England.
And in the first of those friendlies, played at St George's Park, the FA's national training centre, they played some fine football on their way to defeating the Welsh.
It was the team's first competitive match in 18 months, but it didn't show as they quickly got into the groove and were dominant from the start, controlling the bulk of the possession.
The full backs pushed high, which caused the Welsh problems, and that was where the first goal came from in the seventh minute. A long diagonal ball found right back Sean Brown and he cut inside before lofting a left foot shot over the keeper into the net.
Northern Ireland then suffered a setback when their captain, Ruairi McConville, had to be helped off the pitch after suffering an ankle injury. He was replaced by Kielan Reid, while Jack Patterson took the armband.
The switch didn't affect Northern Ireland's momentum, however, with Joel Thompson collecting the ball 30 yards from goal and hitting a thunderous strike into the top corner to make it 2-0.
Northern Ireland continued to control possession and threaten the opposition with quick attacking football. The third goal came from a corner. The ball was whipped into the area and was headed home by Kielan Reid.
'Some of our build-up play and approach play was excellent today and our workrate out of possession was even better'
The Northern Ireland team managed the second half extremely well, with Wales slightly more threatening.
The Welsh produced a series of dangerous crosses, all of which were dealt with calmly by keeper Pierce Charles and the defence.
It was a great start to the week for the U17s - their training camp is based at the Lilleshall National Sports Centre in Shropshire - and they are now looking forward with confidence to playing against England U17 teams on Thursday.
And all the players in Lyttle's 23-strong panel are assured of game time as Northern Ireland will face England U17 A and B sides at SGP.
Afterwards Gerard Lyttle said: "It was a fantastic first international game for our 2005 (U17) players at SGP.
"This group has only been together for a few sessions and had two practice games against an Irish League U20s team before this particular game against Wales.
"A lot of things worked for us today that we previously worked on in the lead-up to the games this week. Some of our build-up play and approach play was excellent today and our workrate out of possession was even better."
He said there were lots of positives to take from a good team performance, and he praised the solid performances of Darragh McCloskey at centre back and Jack Patterson and Joel Thompson in midfield in particular.
Lyttle singled out Sean Brown for praise. He said the full back was man of the match with his attacking play and excellent range of passing.
Northern Ireland U17s team v Wales: Pierce Charles, Sean Brown, Ruairi McConville Darragh McCloskey, Reece Jordan, Jack Patterson, Joel Thompson, Leon Boyd, Luca Doherty, Ethan Sousa, Sam Glenfield. Substitutes: (used) Kielan Reid, Brendan Hamilton, Bradley Maguire, Caolan Donnelly, Jack Berry, Bobby Higgins, Jaydyn Withers.