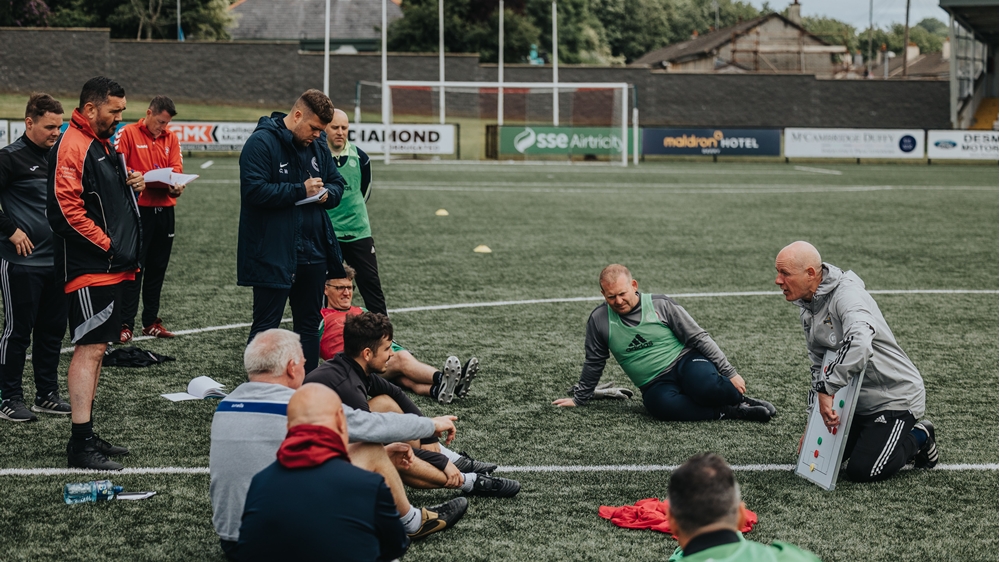 More than 50 coaches from 20 clubs in the Derry City and Strabane District Council area have attended Irish FA coaching courses to date this month.
The Irish FA Foundation's grassroots department is continuing to work in partnership with the council on a number of programmes to promote football in the area.
And through the council-led Uniting Communities Through Sport programme it has engaged with over 50 coaches who have taken either the Irish FA National Coaching Certificate course or the UEFA C Diploma in June.
Improving facilities, promotion of holiday camps and the development of the Small Sided Games programme have helped to spark a notable increase in participation over the past 15 years, according to Kevin Doherty, the Irish FA Foundation's Regional Grassroots Development Officer for Derry City and Strabane District.
"It is important that we develop a skilled coaching network to engage those who want to play our game. Uniting Communities Through Sport offers clubs an opportunity to instill solid operating standards and upskill and train the coaching fraternity at grassroots clubs," he pointed out.
The RGDO said he was delighted to work with the council on the Uniting Communities Through Sport initiative.
He also pointed out: "We should never underestimate the fantastic work football clubs are involved in. The recent pandemic saw how clubs are embedded in our local communities on a voluntary basis.
"They have always played a huge role in developing our game in the Derry/Strabane area and this much needed investment through Uniting Communities Through Sport has allowed clubs to enrol their coaches on Irish FA-accredited courses.
"I would like to take this opportunity to thank Paul Simpson and the wider sports development team at Derry City and Strabane District Council for their ongoing support."
The Irish FA Foyle Games Development Centre continues each Wednesday at the Brandywell Stadium and the foundation will look to expand the programme once Covid restrictions are further relaxed.
A full programme of Irish FA holiday camps are also planned for the area. To book a place, click here
Paul Simpson from Derry City and Strabane District Council pointed out: "Uniting Communities Through Sport is a council-led coach/club development programme funded through Special EU Programmes Body Peace IV.
"The aim of the programme is to build capacity within clubs across six sports - boxing, football, cricket, GAA, hockey and rugby - based in the council area.
"First aid, safeguarding, good relations, personal development workshops and National Governing Body (NGB) Awards courses are attended by coaches in their respective sports.
"The feedback from coaches is that regardless of sport, age, gender or community background, club coaches face the same issues and problems. By completing the programme coaches, clubs and sports benefit by having individuals better equipped with the challenges faced while coaching our young people."