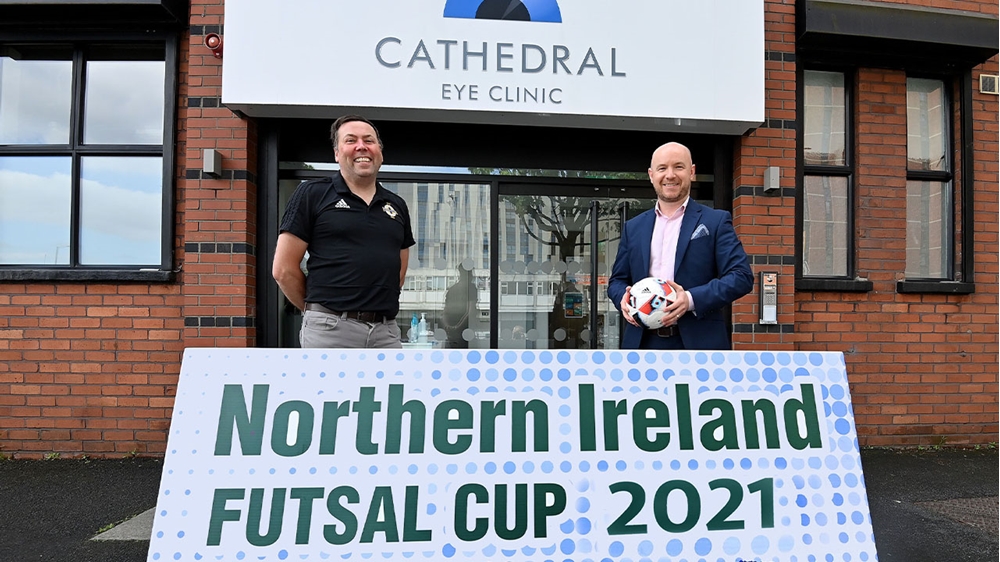 The Northern Ireland Futsal Cup, sponsored by Cathedral Eye Clinic, is back with nine teams from across the country taking part.
The competition will be played to a conclusion in June with the preliminary round between Belfast United and All Blacks kicking off this evening. 
All matches will be played at Shankill Leisure Centre, Belfast. Spectators will not be allowed to attend due to Covid-19 restrictions.  
Gary McArdle, CEC General Manager, said: "Cathedral Eye Clinic is delighted that the Northern Ireland Futsal Cup is back on the sporting calendar after a long hiatus and we are sure the players cannot wait to get back at it. We are thrilled to be continuing our support to the Cup and the sport in general – a truly fast, skilful and strategic sport that is growing fast and enjoyed by all age groups. Good luck to all the squads, management and officials!"
The Irish FA's Acting Director of Football Development, Keith Gibson, adeed: "This is great news for our burgeoning Futsal community here in Northern Ireland. We, and our Futsal clubs, having been working hard to ensure the game keeps a sense of momentum. The exploits of the women's international team's history-making win in Lithuania inspires us to continue to drive the game forward.
"This will be a great three-week festival of the game and, as ever, we offer a big thanks to our sponsors at Cathedral Eye Clinic who continue to be a great supporter of the game."
Full draw below: 
Preliminary round: Friday 4 June
Belfast United vs All Blacks 
Quarter-finals: Friday 11 and Sunday 13 June
Iberians vs All Blacks or Belfast United

 

Sparta vs Glentoran
Rosario vs Afrimeripean

 

World United vs Omagh

 
Semi-finals: Tuesday 15 June and Friday 18 June
Final: Sunday 20 June