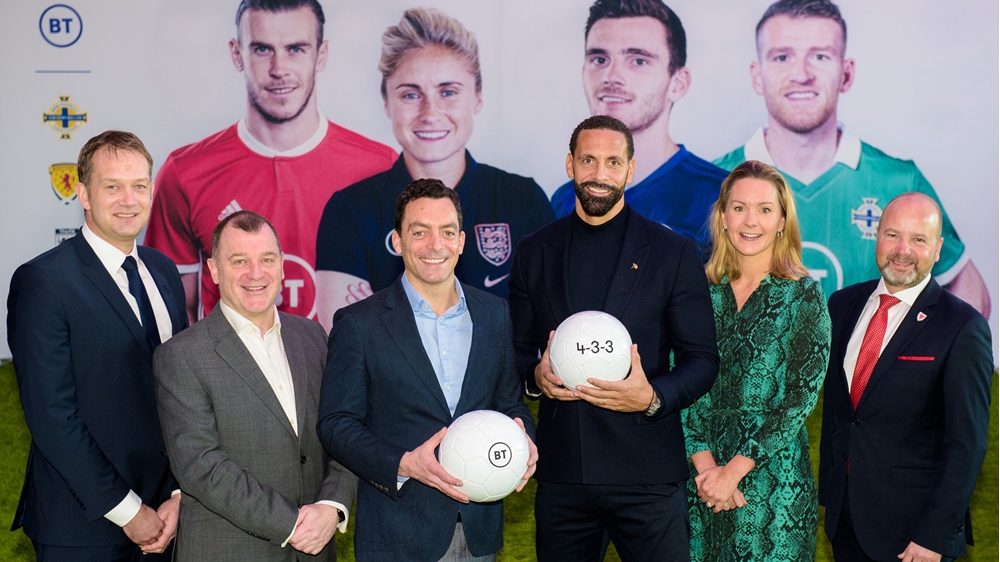 BT today launched an ambitious initiative to harness technology, innovation and digital skills in footballing communities across the UK to benefit millions of players, coaches and fans. 
The 4-3-3 Strategy, which is being delivered by BT in partnership with each of the four Home Nations football associations, is aimed at breaking down barriers to playing or supporting the beautiful game.
It aims to do this through the creation of a disability innovation hub centre and a wide-ranging package of support from grassroots to elite level for men's, women's and disability football in England, Scotland, Wales and Northern Ireland.
BT, which sponsors the Irish FA along with The FA, the Scottish FA and the Football Association of Wales, is set to launch a number of initiatives and projects over the next five years to deliver against specific goals and commitments for each nation.
Irish FA Chief Executive Patrick Nelson, who attended today's strategy launch event in London, said: "It is great that BT, as title sponsor of our men's teams and our development and disability teams, is using its wealth of knowledge and expertise to help the football community in this way. 
"BT's 4-3-3 strategy, with its focus on introducing new technology, innovation and enhancing digital skills, is a positive and very welcome initiative.
"This strategy will undoubtedly be of immense benefit as we strive to promote, foster and develop football for all in Northern Ireland."
He added: "It's a great example of digital skills and football working together. We're looking forward to being the first of the home nations to roll out our own work-ready programme in March with our course at the National Football Stadium at Windsor Park. And later in the year we'll be having a raft of volunteering opportunities at the UEFA U19 Euros which we're hosting. So we're delighted to be partnering with BT in what will be a very exciting time."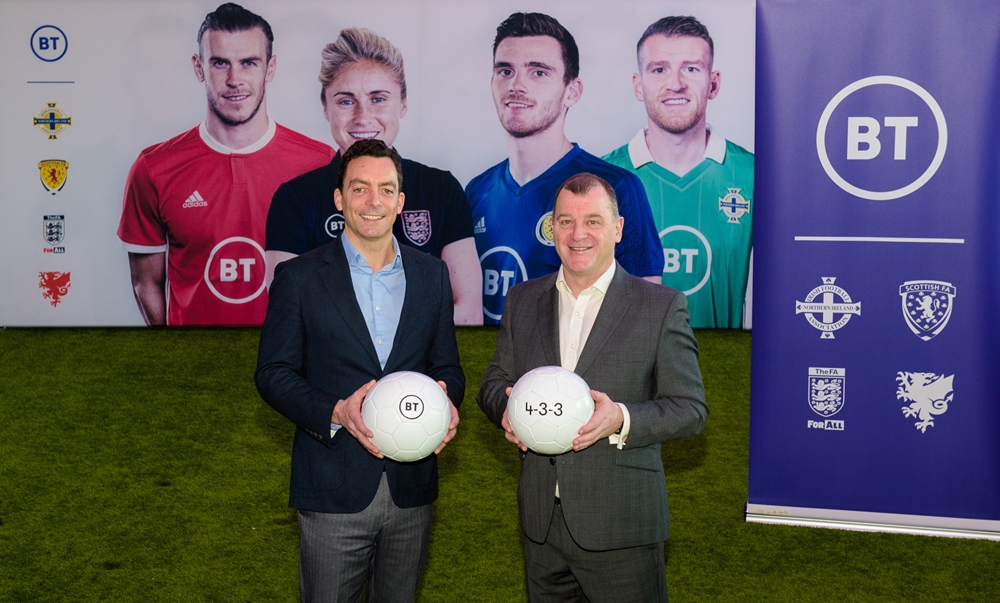 And Marc Allera, CEO of BT's consumer division, said: "Our ambition is to help people, communities and businesses go beyond limits. Football, like BT, is part of the fabric of our nation and we believe combining football with the power of our technology, innovation and people will benefit millions of people across the UK over the next five years."
This strategy will undoubtedly be of immense benefit as we strive to promote, foster and develop football for all in Northern Ireland
Through 4-3-3 (4 Nations, 3 Communities, 3 Goals) BT will work with leading tech innovation hub Plexal, and experts from the tech, sport and accessibility communities, to design and develop a new format of disability football for those who can't play with their bodies to play with their minds. 
BT, which is striving to increase awareness of Para and disability football, wants to create new technologies that help players who can't take part in competitive sport, with the ultimate ambition to create a new Home Nations tournament. 
The communications giant is also set to create a network of more than 200 connected grassroots football clubs across the Home Nations to break down barriers and improve digital, education and football skills for communities across the UK. 
The aim is for community football clubs to become hubs for digital skills training opportunities, not only for those at the club but also for those living nearby and small businesses
BT, which has a wider ambition of providing 10 million people in the UK with digital skills training by 2025, is set to roll out its Skills for Tomorrow training courses across UK cities.
And the series of courses will start next month in Northern Ireland - at the National Football Stadium at Windsor Park - with 60 people aged 16-24 taking part in a Work Ready programme.
Another goal of the strategy is to use the company's digital innovation and broadcasting expertise to inspire a new generation of girls and women to participate in football, on or off the pitch.
Among the plans to boost the women's game is the provision of an opportunity for girls and women to follow their ambitions for a career in sports broadcasting.
And the company is also promising to create more TV and online content celebrating and showcasing women in football to help inspire and educate on the opportunities available on or off the pitch.
BT's Marc Allera added: "We're using these partnerships to create a meaningful legacy across grassroots, para and women's football in the UK.
"This is the start of a very exciting journey that goes far beyond traditional sponsorships and we're looking forward to successful partnerships, on and off the pitch, with all the Home Nations over the coming years."