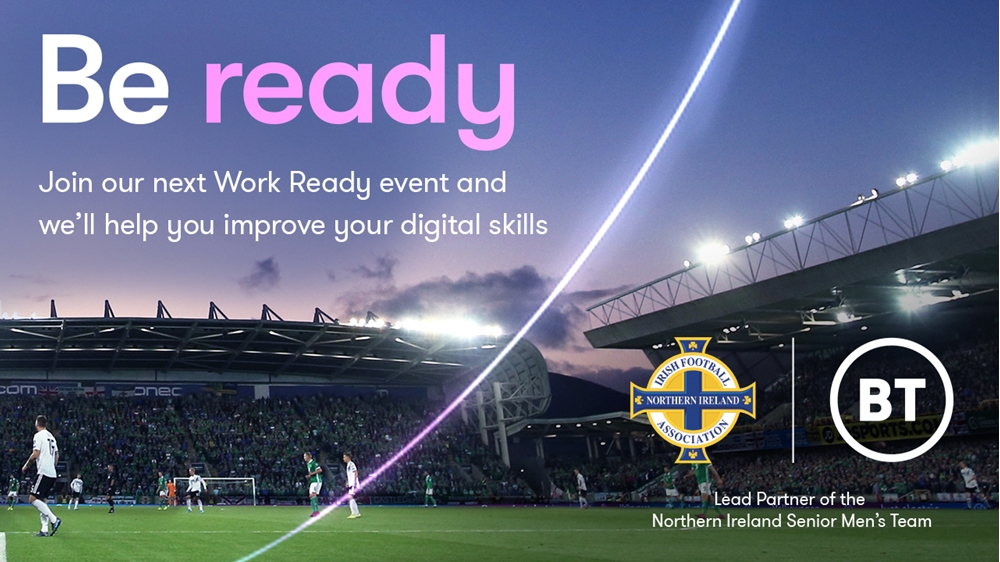 Belfast is the starting point for a new course aimed at making young people more digital savvy and more switched on to launching a career.
As part of a wider initiative to harness technology, innovation and digital skills in footballing communities across the UK, communications giant BT is set to roll out a series of training courses across UK cities.
The company, which sponsors the Irish Football Association along with The FA, the Scottish FA and the Football Association of Wales, is bringing one of those courses - Work Ready - to Northern Ireland in early March.
And it is now actively seeking 60 people aged 16-24 who are not in education, employment or training to take part in the programme.
Work Ready will help participants to improve their employability and digital skills, gain some hands-on work experience and get them ready to step into a career.
Those completing the course will enjoy a graduation day at the National Football Stadium at Windsor Park, get to take a tour of the stadium and be given the opportunity to meet Northern Ireland football legend David Healy.
The 10-day programme is set to be based at BT Riverside Tower in Belfast, kicking off on 2 March.
If you're aged 18-24 and not in education, employment or training you can register for the course at www.bt.com/workready

BT, which has an ambition of providing 10 million people in the UK with digital skills training by 2025, said several other Skills for Tomorrow training courses will be staged in Northern Ireland over the next five years.