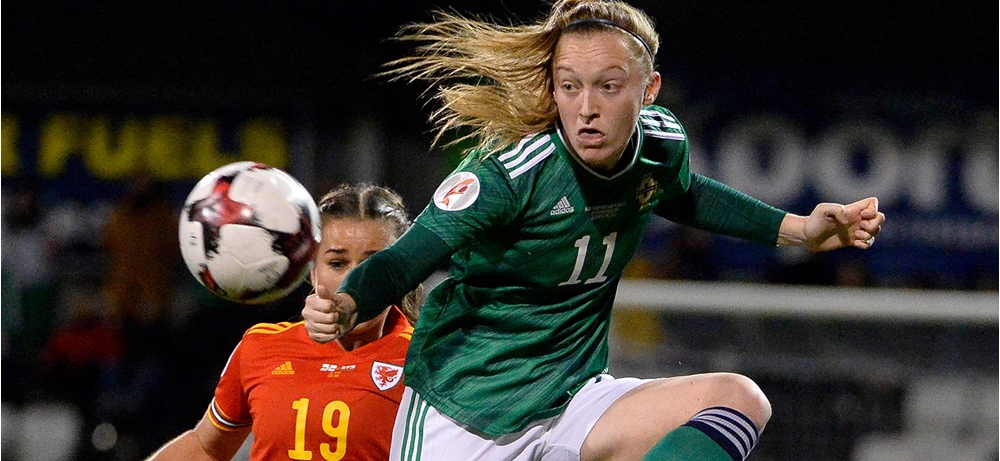 Northern Ireland women's international Lauren Wade has signed for current Scottish Women's Premier League champions Glasgow City FC. 
The 26-year-old who has earned 23 international caps made the move to the Scottish club from Icelandic side Thróttur Reykjavik.⠀
Wade makes the move to a Glasgow City side that have won 13 titles in a row in the Scottish Women's Premier League. 
Manager Scott Booth made Lauren his third signing of the winter. He welcomed her to the club saying: "We are continually working hard to improve our squad. Lauren is a real talent. I've seen her play at a very high level.
"She works extremely hard for the team but also has the individual qualities to cause defence problems. She will immediately identify with our group so I'm looking forward to seeing her develop at the club." 
Lauren, who plays as a forward, was excited about the move and said: "I am absolutely delighted to have signed for Glasgow City. I can't wait to get started and looking forward to the season ahead." 
Lauren's first outing for Glasgow City could be on Friday 21 February against Celtic in the Scottish Women's Premier League opener. 
Northern Ireland striker Lauren Brennan has joined up with Billie Simpson at the Scottish Women's Premier League club Forfar Farmington ahead of the new season as she transfers from Sion Swifts. 
Midfielder Louise McDaniel has also made the move to Scotland as she joins Hearts Women after previously playing for Blackburn Rovers Ladies and Linfield Ladies. 
She told Hearts Women: "I feel like Hearts is the perfect fit for me at the moment, hearing how the manager (Kevin Murphy) want the team to play and the ambitions of the club is really exciting. I knew it was something I wanted to be a part of.
"The team are fantastic; I've really settled into the squad now. The staff and players made it really easy for me, it's such a positive team environment.
"This season I want to get as many minutes under my belt as possible and help Hearts Women make a real impact in SWPL 1."
Image: Lauren Wade in action during Women's Euro 2021 qualifier between Northern Ireland and Wales at Seaview in Belfast.