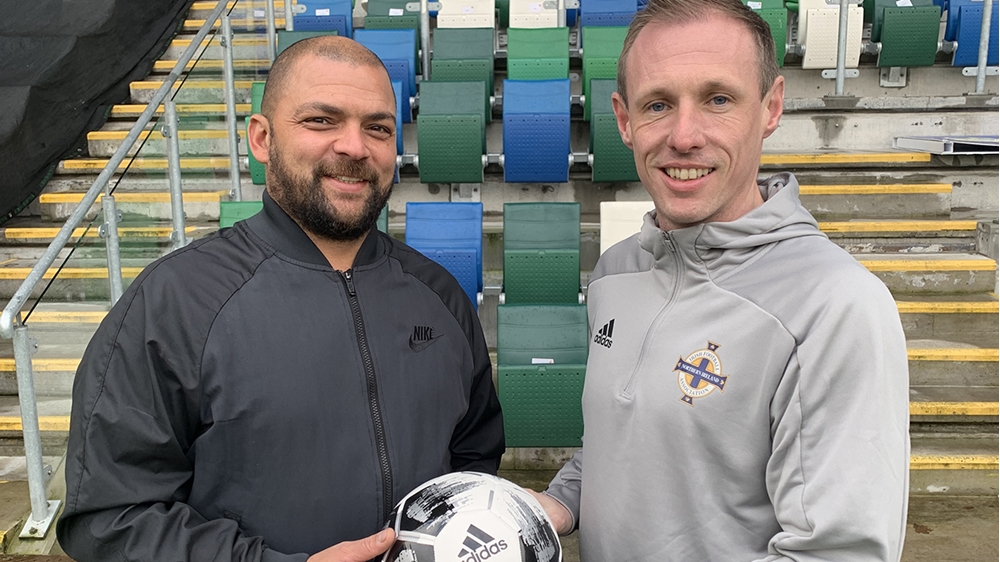 The Irish FA is proud to support Sands United - a UK-wide network of football teams for men who have suffered the loss of a baby before, during or shortly after birth. 
Sands United FC Belfast was formed by Omar Barrett and his wife Karen after they lost their baby boy, Quinn, who was born at 26 weeks and lived for only two hours.
Omar realised that there isn't a great deal of support for men who've lost babies. "I spoke to John who'd started Sands United FC Maiden City after losing his little boy, Charlie. I decided to do something in Belfast."  
He advertised for players through Facebook. There was a great deal of interest and they had their first meet-up to play football in July 2019.
Omar found that football was a great way to help men support each other and the Irish FA is proud to help by providing training wear and footballs for the team.
"We started by trying to arrange a meeting in a bar in town, but the word 'meeting' put people off right away. Men don't want to sit around a table discussing their feelings," Omar said.
"However, when we played football and went for a pint afterwards, people began talking naturally. Some might want to talk and others don't. Some have been dealing with their grief for years. For many it might be the first time they've mixed with other men who've been through what they have and that alone can be a great help.
"Nine people turned up for our first kickabout in July. That number doubled in a month and now we have over 30 players. The social aspect is a great help to people and the team has been so successful my wife is considering starting a women's side."
There are Sands United FC teams all over the UK. They play regularly and raise funds for the Sands stillbirth and neonatal death charity. To find out more visit Sands United FC Belfast on facebook go to www.sands.org.uk