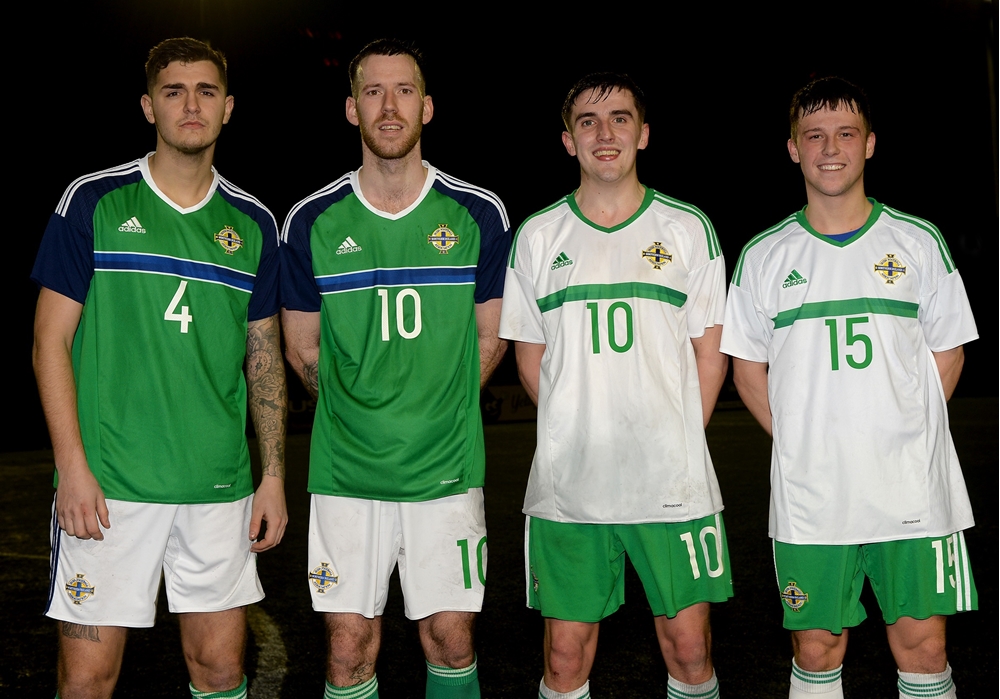 The selection process to represent Northern Ireland at the forthcoming Regions Cup got underway on Wednesday night when the Eastern Region hosted their Western counterparts in a 2-2 draw at the Bangor Fuels Arena.
Both sides are selected from players plying their trade for clubs based either East or West of the River Bann. As is normal these encounters are very competitive affairs with the prestige prize of representing Northern Ireland at Junior International level.
From the start of the match both sides probed to find an opening but it didn't take long for the East to show their desire to dominate the game.
As the time ticked by the West started to gel with a competitive midfield developing that to a neutral observer had all the ingredients for a great game.
The first half ticked away and, as the game progressed, gaps were opening at either end with both keepers called into action.
But just as it looked like the opening 45 minutes would end scoreless the Eastern Region seized a stoppage time advantage when Dundela's Jordan Morrison leapt to connect with a cross into the crowded area to direct a powerful header in off the underside of the bar.
Boosted by this, the East doubled their lead three minutes into the second half through Ballyclare Comrades striker Nathan O'Neill with a blistering 20-yard shot, aided by a somewhat fortunate deflection, past the stranded keeper.
The game then came alive as the West found their momentum and they started to launch their own wave of attacks that on 57 minutes paid dividends when Kyle Eakin found a bit of space and from 25 yards out he unleashed a powerful shot that took a deflection and found the back of the net.
A goal was all that was separating the teams, with the West launching attack after attack in pursuit of the equaliser.
They were duly rewarded for their efforts on 64 minutes when a perfectly placed cross from Simon Warrington saw Dylan McCorkell control it with his left foot before shifting to his right and finishing with a 12-yard drive.
As the minutes ticked away both sides looked for the winner but alas it wasn't forthcoming leaving it all to play for going into the return at Holm Park, Armagh on Wednesday 11th March.

Eastern: Daniel Devine, Scott McMillan, Aidan McNeill, Jordan Morrison, Matthew Devine, Barry McKervey, Ruari Fitzpatrick, Jordan Gibson, Anto Burns, Nathan O'Neill, Ciaran Dobbin subs Jamie McPhee, Leon Bonnes, Conor Downey, Josh Corry, Ryan Gourley, Aaron Rogers, Ross Harland

Western: Lukasz Bednarz, Lee Forgrave, Ronan McBrearty, Dylan Forbes, Lee Warnock, Gareth McFadden, Simon Warrington, Kealan McDermott, Tiarnan Rafferty, Kyle Eakin, Matt Pierce subs Alan Buchanan, Emmet McGilloway, Dylan McCorkell, Jack Mullin, Conor Taggart, Nathan Harkin, Oran McConnell
(Picture: scorers [L-R] Jordan Morrison, Nathan O'Neill, Kyle Eakin and Dylan McCorkell. Credit: Gary Hancock)