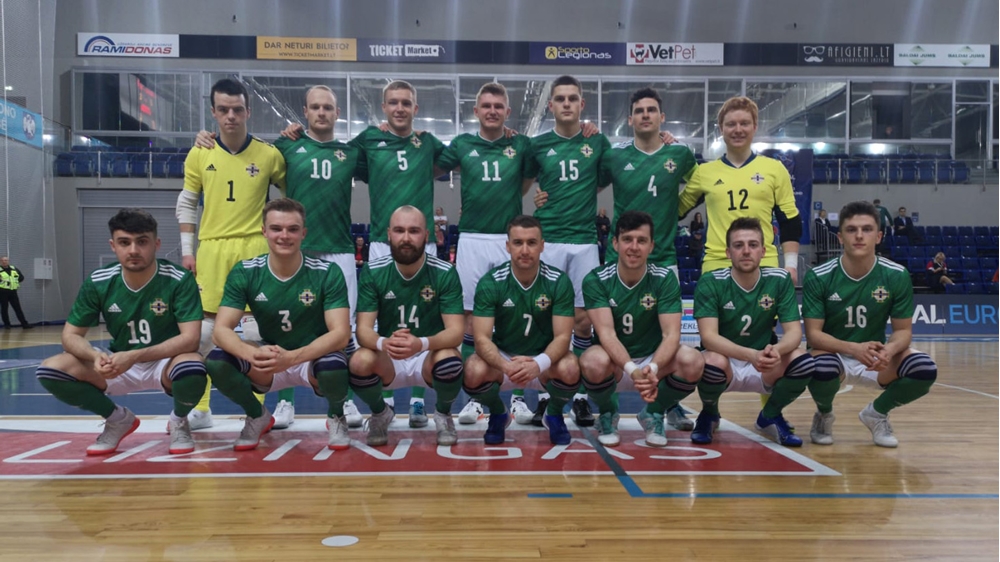 Northern Ireland's men's futsal team bowed out of 2022 Futsal Euros qualifying following a narrow defeat to Turkey in Lithuania.
Both teams went into the game in Jonava knowing that only a victory would give them an outside chance of progressing beyond the preliminary round of qualification for the next Futsal Euros.
Following heavy defeats to Hungary and Lithuania - the Lithuanians hosted the four-team Preliminary Round Group E mini tournament in Jonava - Jonathan Michael's side were determined to put some points on the board. And Turkey, who also lost their opening two games in the group, were also keen to get off the mark.
The match at Jonava Arena was action-packed as both teams went for it, Turkey eventually winning on a 4-2 scoreline.
As in the game against Lithuania, Northern Ireland created plenty of chances but could not convert enough of them to claim a victory.
The boys in green and white started brightly with Connor Millar forcing a good save from Turkey keeper Erkan Cinar.
Further chances for Millar and Craig Taylor followed before they opened the scoring after four minutes when Scott Gunn, moments after entering the fray, rifled the ball home.
Josh Lowry and Millar had further attempts before the Turks twice hit the woodwork. Both strikes came from Cem Keskin.
Michael's team and the Turks continued to create chances, and Northern Ireland keeper Matthew McErlain produced a couple of decent stops, before Turkey levelled proceedings on 16 minutes when Burak Ozdemir played in substitute Kenan Koseoglu and he slammed the ball into the net. And three minutes later Koseoglu pounced again to nudge Turkey ahead.
Just before the break both Conor Kernohan and Taylor had efforts on goal and after the restart both teams created numerous opportunities, and the keepers were the busiest men on the court.
The fourth goal of the game did not arrive until the 37th minute when Yusuf Aygun was on target for Turkey.
Forty seconds later, however, Northern Ireland were given a lifeline when Gunn grabbed his second of the encounter. He found the net after getting on the end of an Adam Barr cross.
Cem Keskin pounced again for Turkey less than a minute later though. Barr, Taylor and Kernohan all had efforts on goal after that but the Turks had done enough to secure the win.
Northern Ireland: Matthew McErlain (GK), Adam Barr, Connor Millar, Josh Lowry, Conor Kernohan. Replacements: Philip Irvine (GK), John Gibson, Ryan Dabbs, Scott Gunn, Conor Glenholmes, Chris Donnelly, Darius Roohi, Craig Taylor, Jordan Wilson.