The two players who form Northern Ireland's first ever eSports team have been presented with their international shirts.
Nick Hatton, from Bangor, and Belfast man Garey Vance are set to compete in UEFA eEURO 2020 qualifiers next month.
The pair, who have both been playing sports-related computer games for more than 20 years, visited the National Football Stadium at Windsor Park where they donned their Northern Ireland shirts after being taken on a tour of the stadium.
The two players had to navigate qualifiers within Northern Ireland to earn the right to represent their country.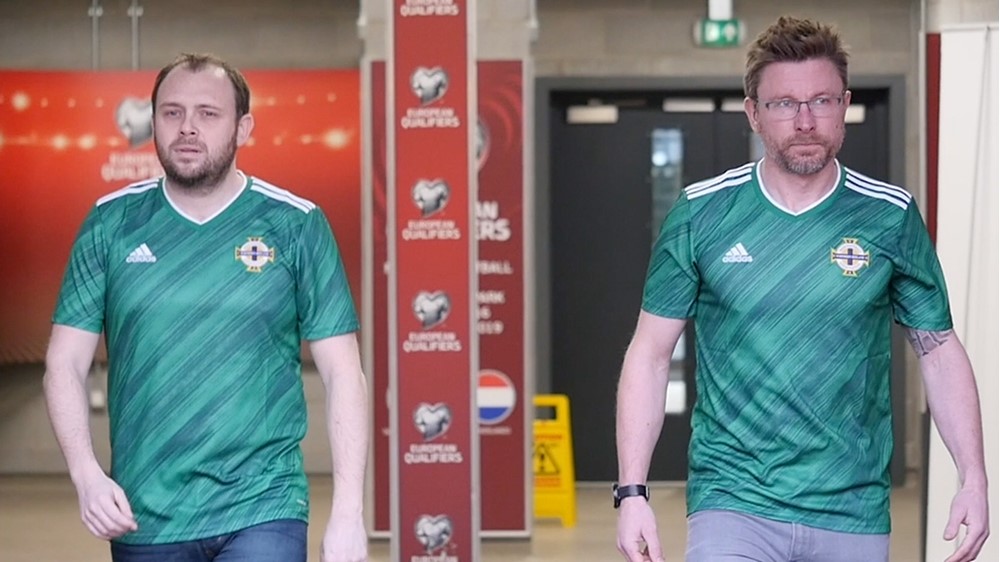 Nick said: "I didn't expect to play for Northern Ireland. This is an unbelievable opportunity."
And Garey said: "You want to be able to go up against the best and see how good you are."
The competition will be the biggest national team eFootball event to date and will see participating players compete exclusively on KONAMI's eFootball PES 2020. The video game will be dedicated to this summer's UEFA EURO 2020 showpiece.
The Northern Ireland team will compete in Qualifying Group F alongside Kosovo, Georgia, Lithuania, Belarus and Luxembourg. The qualifiers, which take place in a round robin format, are scheduled to take place between 10 and 25 March.
Nick said: "Hopefully it was a good omen when Georgia came out of the hat as Georgia is my daughter's name."
And Garey added: "I am sure all of the teams will be confident they can make a dent in the competition."
The Belfast man further said he hoped eFootball will be boosted here by their participation in the Euro qualifiers.
The teams will play two games of eFootball PES 2020 (one v one) against each of the other teams in their qualifying group. The winner of each group and the best six runners-up will qualify for the 16-team final tournament, which will take place in London on 9 and 10 July. 
The team crowned the winners of eEURO 2020 will receive tickets to the final of UEFA EURO 2020 as well as a cash prize.