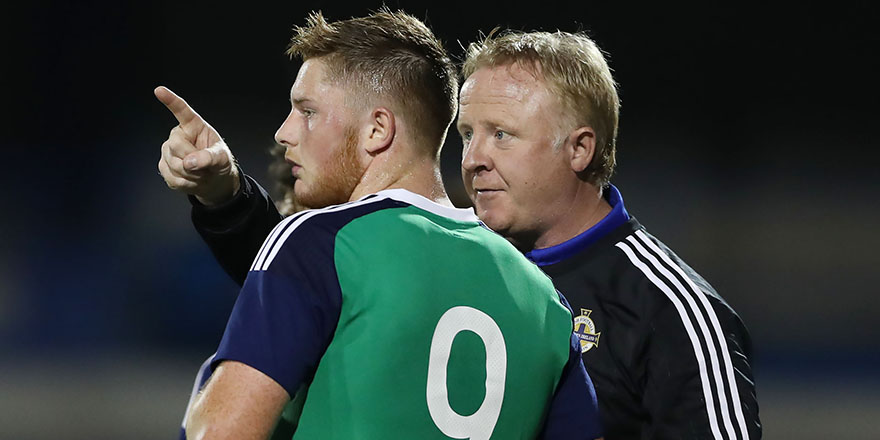 Northern Ireland Under-19 and Under-17 boss Stephen Frail has revealed he is "reasonably pleased" with the draws for the 2019 U19 and U17 Euros qualifying rounds.
The U19s will face Poland, Serbia and Kazakhstan in a qualifying round next November, while the U17s will take on Slovakia, Turkey and San Marino next October.
Stephen Frail said: "I am reasonably pleased with both draws in terms of avoiding the really top sides like England, Germany, Spain and France. However, we will still be facing really talented international youth sides."
The U19s qualifying tournament is being staged in Northern Ireland. The matches will be played on 14, 17 and 20 November.
The top two in each group in the qualifying round will join top seeds Portugal and Germany in an elite round in spring 2019. After that round the seven group winners will join hosts Armenia at the finals in July 2019.
The U17s qualifying round matches will be played in Turkey on 24, 27 and 30 October next year.
The top two in each group along with the four third-placed teams with the best record against the leading pair will join top seeds England and Germany in the elite round in March 2019.
After that round the eight group winners and seven runners-up with the best record against the teams first and third in their pool will join hosts Republic of Ireland in the 16-team finals in May 2019. The finals will act as Europe's qualifier for the 2019 FIFA U17 World Cup.
Stephen Frail added: "The U17 qualifying round will be especially tough as we have to travel to Turkey. Although hopefully the temperature won't be as hot as it would be in the summer months, the travel and the quality we will face will give our lads an exciting challenge as we try to qualify for the elite round.
"The U19s being at home will, I hope, give us a slight edge but again we know the quality of the teams we will face when Serbia, Poland and Kazakhstan come to Northern Ireland.
"Both draws give our young players the chance to play against Europe's best international teams, which is fantastic for their development as they strive to become, hopefully one day, a future Northern Ireland international."
The draws were made at UEFA HQ in Nyon, Switzerland, yesterday.