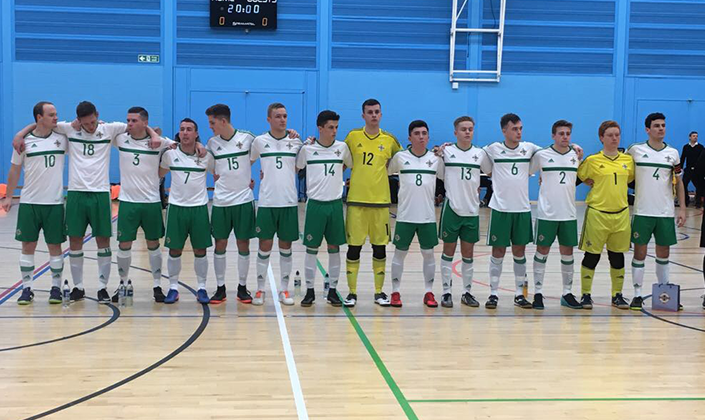 Northern Ireland suffered a 5-1 defeat against tournament favourites England in the futsal Home Nations Championship this afternoon.
In the corresponding fixture last year the English ran out 16-1 winners, but a much improved Northern Ireland side were determined not to let that happen again.
Northern Ireland held their own in the opening five minutes as both teams looked to test each other. 
However, it was England who struck the first blow when Douglas Reed opened the scoring after six minutes.
As Northern looked for an equaliser Connor Millar, Kris Lindsay and Ciaran Donaghy all had shots on goal.
But it was England who went further ahead when Stuart Cook slotted home with five minutes of the half remaining.
Northern Ireland goalkeeper Philip Irvine made a number of great saves to keep Northern Ireland in the game but with only 25 seconds of the half remaining Calvin Dickson scored to give England a 3-0 advantage at the break. 
England scored 14 seconds into the second half when Raoni Medina guided home a set piece. Stuart Cook made it 5-0 minutes later. 
Jordan Wilson scored his first international goal to put Northern Ireland on the scoresheet seven minutes from time and the rest of the game was played out without further goals.
Northern Ireland manager Jonny Michael said: "Although we are disappointed with the goals we conceded, and the timing of these goals, we are pleased with our overall performance today against a quality English side. 
"The boys had to defend for large periods of the game but we were always dangerous on the counterattack.  
"This performance is a good measurement of our improvement over the past 12 months. We take this self-belief into our final game against Wales tomorrow and know that we can be competitive at this level."
Northern Ireland play Wales at 1pm tomorrow in their final match of the futsal Home Nations Championship.