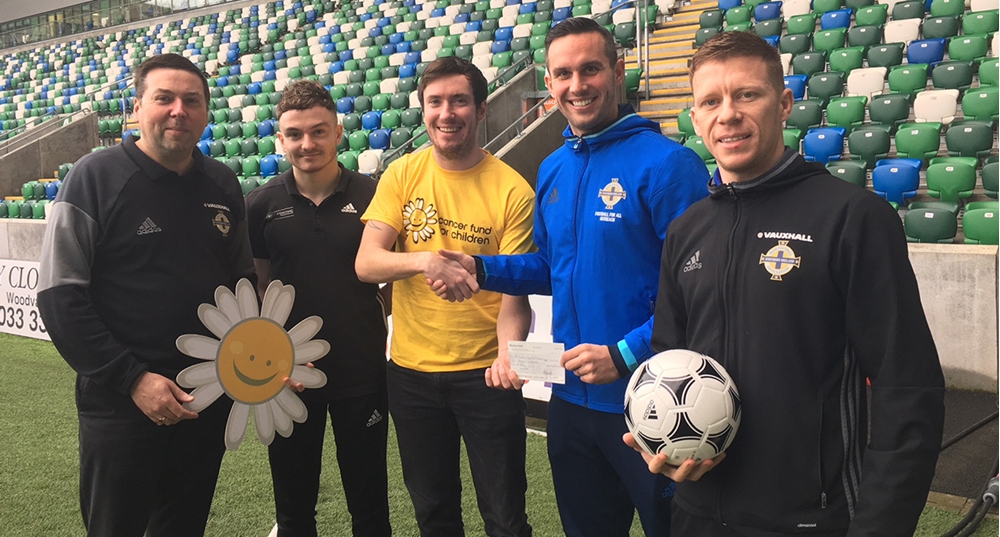 An Irish Football Association charity football team have raised £1,500 for the Cancer Fund for Children.
The charity XI, who played seven games during 2017, raised the money through player donations. It brings the total raised by the association, staff, players and fans for Cancer Fund for Children to more than £130,000.
After the senior men's international side chose Cancer Fund for Children as their official charity partner for Euro 2016, funds have been raised in various ways, including player match fees, an online ballot for the shirt worn by Gareth McAuley in the famous win over Ukraine in France, plus the homecoming in Belfast and associated collections, as well as a recent €50,000 donation from the UEFA Foundation for Children.
The latest cheque was handed over to Matthew Allen, the children's charity's corporate fundraiser, by Irish FA Director of Football Development, and IFA Charity XI player-manager, Michael Boyd along with team players Keith Gibson and Michael Finch and coaches Andrew Waterworth (Linfield FC) and Stevie Garrett (Cliftonville FC).
Michael Boyd said: "We are delighted to continue supporting the valuable work of Cancer Fund for Children through donations from our charity team in 2017.
"I would like to take this opportunity to thank each player for their generosity. As a team we are very proud to support such a worthy cause and make a difference to the lives of local children diagnosed with cancer."
Matthew Allen, corporate fundraiser for the children's charity, added: "I'd like to thank everyone at the IFA for this generous donation. As a local charity we receive less than 0.5% of our income from the Government and rely on voluntary support of local businesses and the community to help us raise vital funds to support children and young people living with cancer.
"Donations like this really do go a long way in helping us be there for families affected by cancer so they don't have to face it alone. These funds will allow our team of specialists to support families when they need it most, providing them with a range of practical, emotional and financial support as well as free therapeutic short breaks, to help them cope with the impact cancer has on their lives."
To find out more about the work of Cancer Fund for Children CLICK HERE. 
Image: At the cheque handover were Keith Gibson, Michael Finch, Matthew Allen of Cancer Fund for Children, Andrew Waterworth and Stevie Garrett.