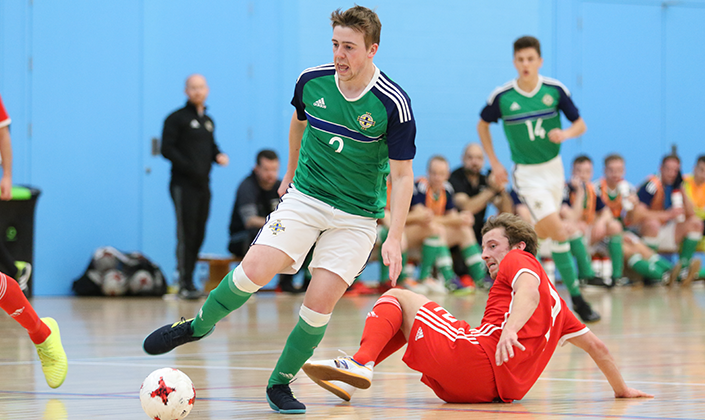 Northern Ireland completed their futsal Home Nations Championship fixtures with an 8-0 defeat to Wales in Edinburgh today.
Three matches in three days took its toll on the Northern Ireland team who were clearly disappointed with their under-par performance at the full time whistle. 
Wales took the lead through Chris Hugh in the third minute of the game. Rico Zulkarnian made it 2-0 on 8 minutes and Hugh scored his second and Wales' third in the 12th minute. 
Naim Arsan scored with two minutes of the half remaining as Wales took a 4-0 lead into the break.
Second half goals from Craig Pritchard, Zulkarnian, Warren Hudson and Adam Orme completed the rout for Wales on a day Northern Ireland will want to erase from the memory banks as they continue their development in the sport.
Northern Ireland manager Jonny Michael said: "We were disappointed with our performance today. Ultimately the third game in three days took its toll on the squad and we didn't have the same energy levels to compete with a Welsh side that had a lot of the ball.
"Overall I can see that we have greatly improved from last year's tournament and we will continue to take development strides in 2018. 
"The players will continue to work hard to develop their conditioning and understanding of the game in order for us to be even more competitive in 2018.
"Next year we will host the Home Nations Championship and also a number of friendly matches. 

"We hope that this will raise the profile of the game and that more people in Northern Ireland will start playing the game and in turn we can continue to add to our panel of players."
Pictures by Peter Talbot