Concussion, improving player behaviour and tweaks to VAR were among the topics for discussion when the International Football Association Board (IFAB) held its Annual Business Meeting (ABM) in Belfast today.
Among the attendees today was former Arsenal manager Arsene Wenger, who was attending his first IFAB meeting since his appointment as FIFA's new Chief of Global Football Development. Wenger is also a member of IFAB's football and technical advisory panels.
At the meeting in Belfast's Grand Central Hotel, which was chaired by Irish FA chief executive Patrick Nelson, football's lawmakers held a detailed discussion on concussion which concluded with an agreement to appoint an expert group to delve deeper into the issue.
The group, made up of medical sports specialists and football experts, will be tasked with identifying possible options for in-game assessment and management of suspected concussion, taking into consideration all potential resulting consequences, with player safety at the forefront.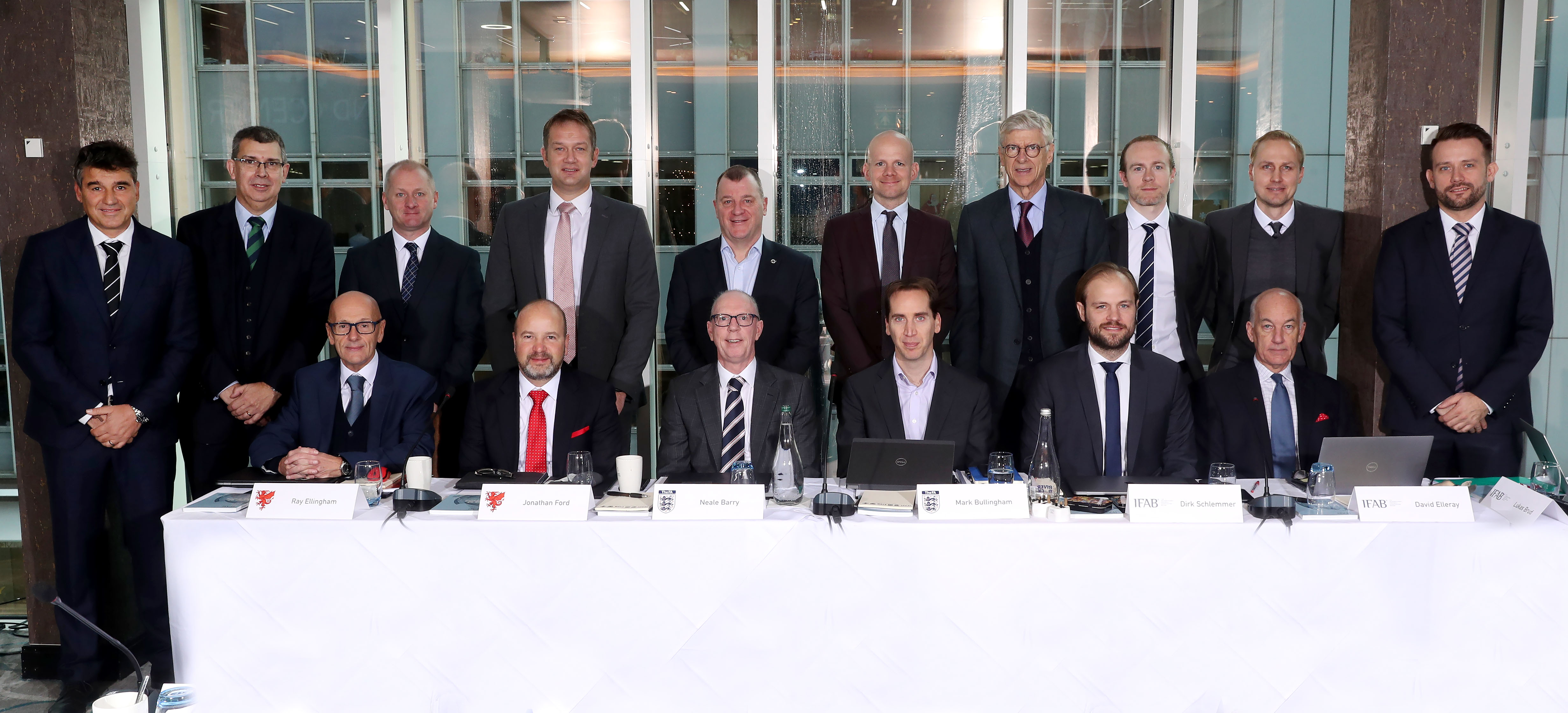 Above: Members of the International Football Association Board meeting in Belfast today. Photo: William Cherry (Press Eye / IFA) 
In addition IFAB discussed further steps to be taken in relation to the 'Play Fair' initiative, including measures to improve player behaviour and increasing respect. 
There was also a detailed update on the worldwide use of VARs (video assistant referees) and in particular the growing demand for more immediate information about the referee's final decisions after a VAR review. 
The members agreed to explore different communication options to improve the understanding of the decision-making process. 
One of the options discussed was to allow referees to communicate directly to supporters and explain their decisions involving VAR. 
This could involve supporters hearing a final decision, and brief explanation, from a referee, however fans would still be unable to listen to match officials during the decision-making process. The current laws of the game prevent an open audio channel between referees and non-match officials.
The ABM prepares and agrees on topics and material for the Annual General Meeting (AGM) at which changes to the laws of the game can be agreed. 
The 2020 AGM of The IFAB will be held in Belfast on 29 February next year and will ultimately decide which of today's proposals and recommendations will become part of the laws of the game as from 1 June 2020.