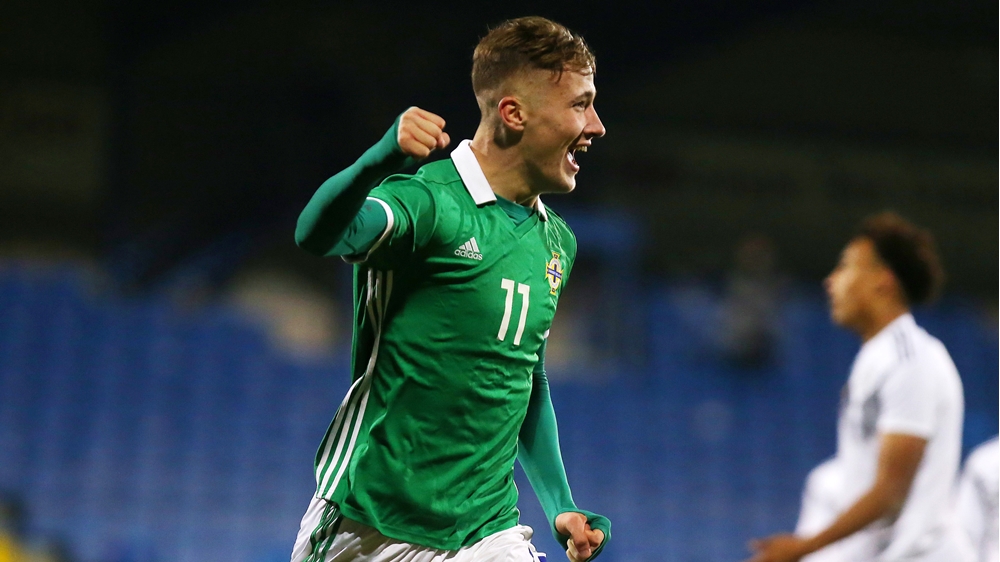 Northern Ireland's U19s will face Austria, Sweden and Gibraltar when they next get into qualification mode.
The boys in green and white qualify for next year's U19 Euros as the host nation – the finals are being staged here between 19 July and 1 August - but following those U19 European Championship finals it will be back to the bread and butter of qualification for the 2021 U19 Euros in Romania.
Northern Ireland have been drawn in Group 3 of the 2021 qualifiers along with hosts Sweden, top seeds Austria and Gibraltar. And the matches will be played between 11 and 17 November next year.
The top two in each group and the third-placed team with the best record against the leading pair in their section will join top seeds Portugal - they received a bye - in the elite round in spring 2021, which will produce Romania's seven finals opponents.
Meanwhile, the elite round draw has been made for the 2020 U19 Euros in Northern Ireland.
Seven groups of four will be played in elite round mini tournaments from 25 to 31 March to decide Northern Ireland's finals opponents next summer. The winners of each group will be here next July.
The groups are:
Group 1: Austria, Wales (hosts), Germany, Serbia
Group 2: Spain (hosts, holders), Belgium, Bulgaria, North Macedonia
Group 3: Georgia, Scotland, France (hosts), Russia
Group 4: England, Ukraine, Denmark (hosts), Latvia
Group 5: Italy (hosts), Norway, Iceland, Slovenia
Group 6: Portugal, Turkey, Croatia (hosts), Slovakia
Group 7: Netherlands (hosts), Czech Republic, Switzerland, Finland
Next year's tournament in Northern Ireland will act as Europe's qualifier for the 2021 FIFA U-20 World Cup in Indonesia.
A mixture of Northern Ireland's U19s and U18s will also be in action next September – in the first step towards the 2022 U19 Euros tournament in Slovakia. 
The U19s/U18s team will be competing in round one of a new UEFA Nations League-style UEFA European Under-19 Championship, in which the groups are being played in autumn 2020.
A new two-year format is replacing the current one-season qualifying system, with a series of one-venue mini tournaments including promotion and relegation leading to the 2022 finals in Slovakia.
Northern Ireland's U19s/U18s have initially been drawn in League C2 along with hosts Belarus, Gibraltar and San Marino, with the matches being played between 2 and 8 September next year.
The winners of five groups in League C – plus runners-up depending on the number of entries - will be promoted to League B and from there will participate in another mini tournament in the summer of 2021 for teams in all three leagues (A-C).
In autumn 2021 there will be a further mini tournament for Leagues A and B and after that there will be a fourth mini tournament for League A sides only in spring 2022 which will ultimately decide which teams go forward to the eight-team finals in Slovakia that summer.