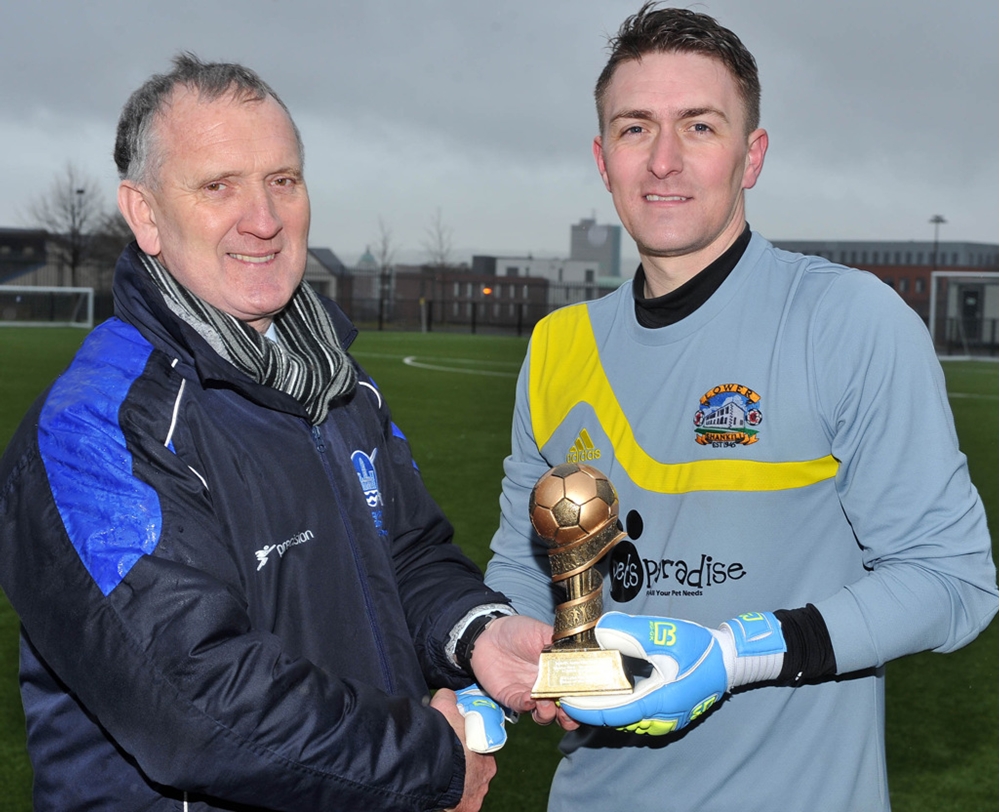 In the tie of the quarter-finals, Lower Shankill opened the scoring on 33 minutes with a goal from Steven Burns. A long thrown-in was met by Burns who made no mistake in finding the back of the net.
The scoreline remained 1-0 until the 60th minute when James Hetherington equalised for Tullymore Swifts with a shot from just outside the box which went through a group of players and left 'keeper Fluke rooted to the spot.
Within 60 seconds, Tullymore Swifts doubled their tally with a rasping free kick from Damien Fegan from 35 yards which left both sets of players stunned.
On 77 minutes, Lower Shankill drew level with a close range shot from Jonny Ward.
The game then went to extra time and within 6 minutes Tullymore Swifts took the lead with a goal from Fegan. It looked like the visitors were going to hold on for the win, but with 2 minutes to go, Burns got the all-important equaliser.
Time for penalties.
Lower Shankill (Darren McCullough) 1-1 Tullymore Swifts (Damien Fegan)

Lower Shankill (Craig McCann) 2-1 Tullymore Swifts (missed - Brendan Knox)

Lower Shankill (missed - Gary Anderson) 2-1 Tullymore Swifts (missed - Sean McCarthy)

Lower Shankill (Jonny Ward) 3-2 Tullymore Swifts (David Neeson)

Lower Shankill (Thomas Morrison) 4-2 Tullymore Swifts
Lower Shankill join Harryville Homers, Hill Street and Rosemount Rec in the draw for the semi-finals of the IFA Junior Cup.
Lower Shankill's Gary Fluke was named 'Man of the Match' and was presented with his trophy by Robert Docherty from the Irish FA Junior and Youth Committee.