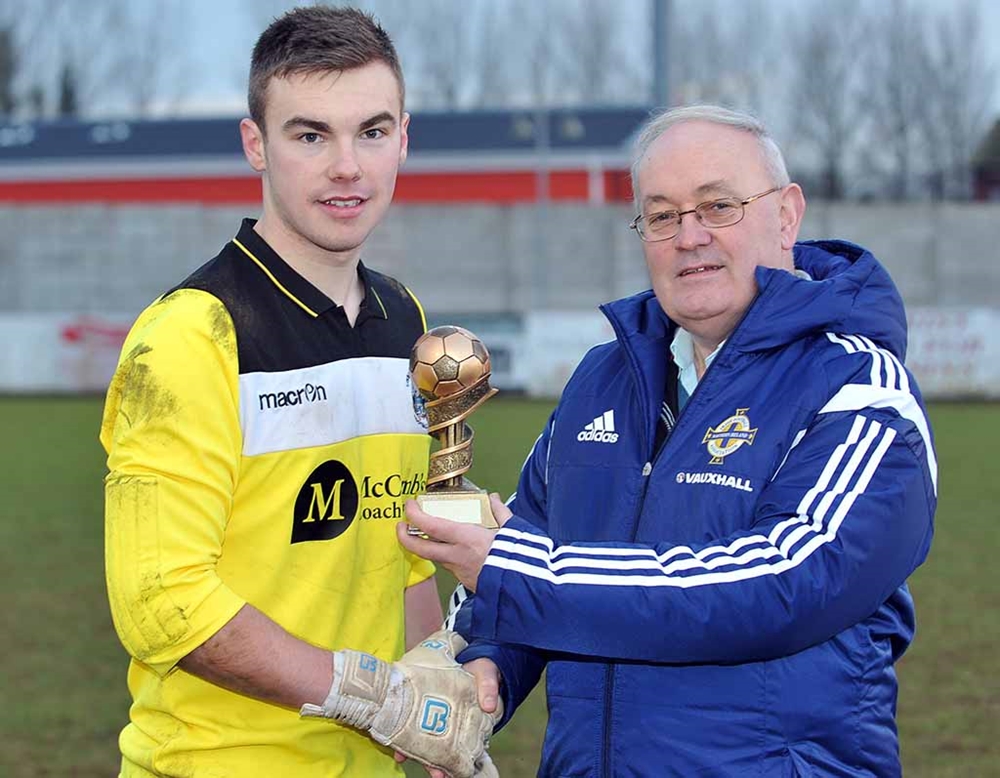 The "Tie of the 5th Round" of the IFA Intermediate Cup saw Championship 1 sides Ballyclare Comrades and Lisburn Distillery take to the pitch with the fans expecting a competitive game.
The home side settled quickly and had a few chances on goal in the first half but finding the back of the net became elusive and the Lisburn Distillery keeper Ryan McBride saved the only accurate shot on goal with a well timed tip over the bar.
It took the visitors 30 mins to have a meaningful attack but just couldn't finish of the chances they created.
The Ballyclare no 11 Joel Cooper continued to make inroads into the Distillery 18 yard box but his shots where inaccurate and the frustration could be seen on his face.
Half Time: Ballyclare Comrades 0 – 0 Lisburn Distillery
The Half time break came and went and the second half started much in the same standard as the first.
Both sides had half chances but it looked like one of those games that was destined for the dreaded penalty shootout.
As the game progressed both teams tried to up the tempo but it was a case of too little too late and 90 mins came and went with both sides locked in a goalless draw.
Full Time: Ballyclare Comrades 0 – 0 Lisburn Distillery
Extra time of 10 mins each way still couldn't divide the sides and we went to the final solution of kicks from the penalty spot.
Ballyclare opened their account with Distillery cancelling this out so 1-1 after 1 kick each, Up stepped Ballyclare's Christopher Trussell only to see his kick saved and Distillery took advantage by scoring and going 2-1 up. Both sides scored their 3rd kicks and again Ballyclare stepped up and saw their shot from Andrew Doyle miss the back of the net, advantage Distillery and yes they took it and won the penalty shootout 4-2 and progressed to the quarter final draw on Tuesday night.
The IFA Intermediate Cup Committee member Bob Fenton was on hand to present the "Man of the Match" trophy to Lisburn Distillery's Goalkeeper Ryan McBride.
Results from today's other games:
Armagh City 2-1 Sport & Leisure Swifts (kick-off 3pm)
Ballyclare Comrades 0-0 (2-4p) Lisburn Distillery *TIE OF THE ROUND* (kick-off 3pm)
Banbridge Town 1-3 Dergview
Bangor 4-0 Cliftonville Olympic
Dollingstown 2-3 Carrick Rangers
Immaculata 3-1 Lurgan Celtic
HW Welders 5-3 PSNI
Linfield Swifts 1-2 Dundela