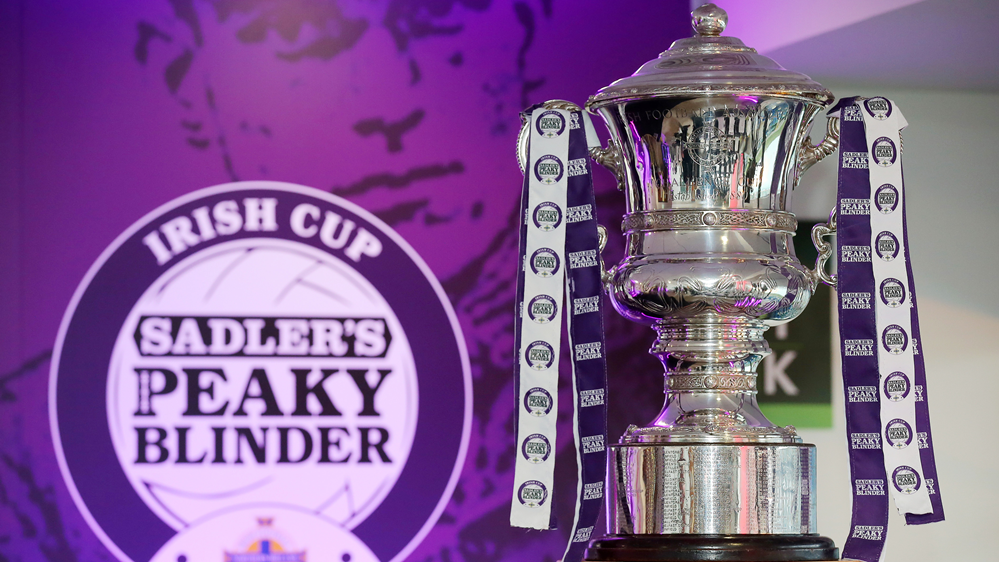 This season's Sadler's Peaky Blinder Irish Cup competition will get under way next month with 80 teams in action.
The oldest cup competition in Northern Ireland, which is open to senior and intermediate sides, will begin with 40 qualifying phase first round games on Saturday 14 August.
The winners of those matches will then join 24 other teams, who received round one byes in last night's draw, in the second round of qualifying.
Round two qualifying matches are due to be played on 25 September, followed by round three on 30 October and fourth round ties on 27 November.
Eight teams will eventually progress from the four qualifying rounds to take their place in round one of the competition phase where they will be joined by Northern Ireland's 24 senior clubs from the NIFL Premiership and NIFL Championship.
What was traditionally called the fifth round, but is now known as round one (competition phase), is due to be played on Saturday 8 January. Round two is scheduled for 5 February with the quarter-finals on 4/5 March, the semi-finals on 1/2 April and the final on Saturday 7 May. 
Last season, due to Covid-19 restrictions, there was a truncated Irish Cup competition with all ties played within four weeks. Linfield defeated Larne in the final towards the end of May to lift the trophy for the 44th time in their history.
The Irish FA Challenge Cup Committee is, however, hopeful that this season's Sadler's Peaky Blinder Irish Cup competition will be played in full.
Due to pitch renovations at the National Football Stadium at Windsor Park the 2021 final and semi-finals had to be played at Mourneview Park in Lurgan, but the Irish FA is confident the decider will return to its traditional home in Belfast next year.
In the event that it is not possible to complete the qualifying phase, it will be at the discretion of the Challenge Cup Committee to determine which clubs shall be invited to join the 24 senior clubs in round one of the competition. 
Please see the draw for the qualifying phase first round below.
| | | | |
| --- | --- | --- | --- |
| Home Team |   | Away Team | Venue |
| Clonard | V | Bangor Amateurs | Brook Activity Centre 3G |
| Ards Rangers | V | Bryansburn Rangers | Drome Park |
| Hanover | V | Bourneview Mill | Brownstown Road Arena |
| Derriaghy CC | V | Albert Foundry | Seycon Park |
| Ambassadors | V | Ardstraw | Ashgrove Playing Fields |
| Dollingstown | V | Crumlin Star | Planters Park |
| Tullyvallen | V | Maiden City | Hillview Park |
| Tobermore United | V | East Belfast | Fortwilliam Park |
| Lurgan Town | V | PSNI | Lurgan Town Arena |
| Shankill United | V | Newbuildings United | Hammer Sports Complex |
| Seagoe | V | Ballynure OB | Tarsan Lane |
| Windmill Stars | V | Dungiven Celtic | Derryleckagh Playing Fields |
| Lisburn Distillery | V | Newcastle | Ballyskeagh |
| Valley Rangers | V | Portstewart | Bignian Park |
| Cookstown Youth | V | Killyleagh | Mid Ulster Sports Arena |
| Dunloy | V | Tullycarnet | McCamphill Park |
| Grove United | V | Newtowne | Shore Road Playing Fields |
| Ballynahinch United | V | Greenisland | Millbridge |
| Ballymoney United | V | Richhill | Riada Stadium |
| Rosario YC | V | Woodvale | Ulidia Playing Fields 3G |
| Wellington Rec | V | Donegal Celtic | Brookvale Park |
| Cookstown RBL | V | Banbridge Town | Cookstown High School |
| Wakehurst | V | Armagh City | Ballymena Showgrounds |
| Dromara Village | V | Dunmurry Rec | Bellsbridge |
| Dromore Amateurs | V | Limavady United | Ferris Park |
| Brantwood | V | Coagh United | Skegoneill Avenue |
| Craigavon City | V | Malachians | Drumgor Road |
| Desertmartin | V | Orangefield OB | Dromore Road |
| 1st Bangor | V | Lower Maze | The Drome |
| Banbridge Rangers | V | Moneyslane | Cheney Park |
| Sirocco Works | V | Bangor Swifts | Dixon Park Playing Fields |
| Chimney Corner | V | Rectory Rangers | Allen Park |
| Belfast Celtic | V | Ballymacash Rangers | Glen Road Heights |
| Abbey Villa | V | Shorts | Adams Park, Millisle |
| Islandmagee | V | Suffolk | Wilbourne Park |
| Holywood | V | Barn United | Spafield Park |
| Crumlin United | V | Saintfield United | Mill Road |
| | | | |
| --- | --- | --- | --- |
| St Luke's | V | Aquinas | Brook Activity Centre 3G |
| Larne Tech OB | V | Fivemiletown United | Dennis Harvey Park |
| St Oliver Plunkett | V | Rosemount Rec | Lenadoon Millenium Park |
Byes:
Strabane Athletic
18th Newtownabbey OB
Tandragee Rovers
Kilmore Rec
Rathfriland Rangers
Colin Valley
Ballynahinch Olympic
Downshire YM
Comber Rec
Markethill Swifts
Bloomfield
Glebe Rangers
Crewe United
Mossley
Drumaness Mills
Newington
Bangor
Dunmurry YM
St Mary's YC
St James' Swifts
Immaculata
Laurelvale
Lisburn Rangers
Oxford Sunnyside